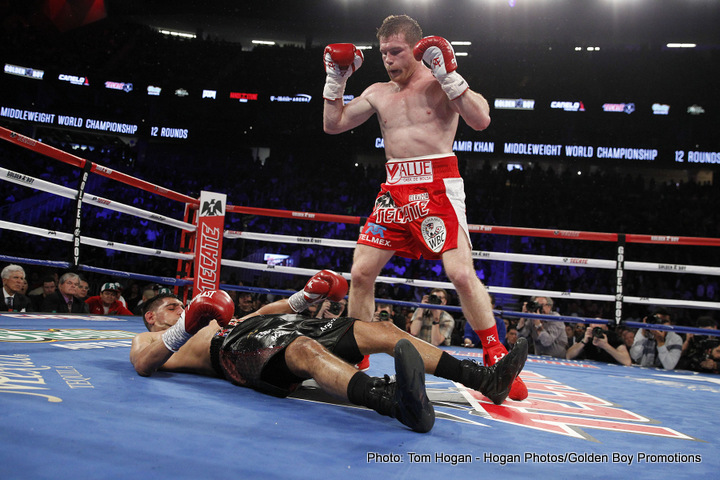 Share the post "Canelo Alvarez to fight September 17th, either in Vegas, New York or Texas; opponent TBA"
Mexican superstar Saul Canelo Alvarez will fight again on September 17th, RingTV.com reports – but there are three different venues being considered for Canelo's return and, more seriously, no confirmed opponent. Alvarez will fight, Golden Boy's Eric Gomez says, either at The MGM in Las Vegas, at Madison Square Garden in New York or at AT&T Stadium in Arlington, Texas. At which weight? Gomez says Alvarez will box anywhere from 154 to 160, with "everybody" in that weight range being considered as an option.
Of course, fight fans the world over want Canelo to fight one man and one man only: Gennady Golovkin. Gomez says he and Tom Loeffler are still in talks over this mega-fight and that if things can be worked out and if it is agreed there is enough time between now and September to sufficiently promote one of the biggest fights in years, it could happen on September 17th. Gomez again insisted Alvarez "wants the fight."
"He wants the Golovkin fight," Gomez said of Canelo. "We want to make it. We know it's the next mega-fight. And if it's the right deal, we're going to make it happen. If it's a great deal to face Golovkin – and it's too good an offer to pass up – then you know what? We're going to take a hard look at it and see if we can make it happen."
Just in case a deal cannot be reached (and though fans remain hopeful, many of them are not convinced this super-fight will take place this year, if at all) Golden Boy have "a slew of other guys out there" for Canelo to fight in September. When it comes to names, Gomez used just one, that of Miguel Cotto. It seems we could possibly see a return meeting between Cotto and Alvarez, the man who widely out-pointed him to take the middleweight title last November and then handed it to GGG. Will fans be happy if they get this instead of the Canelo-Golovkin fight? Probably not.
Gomez says Canelo instructed him to get him "the best possible fight at '54 and '60." Fans everywhere know the best possible fight for Canelo at 154 to 160 is the guy with the three-initial nickname. Why are things never, ever so simple in this game?
Share the post "Canelo Alvarez to fight September 17th, either in Vegas, New York or Texas; opponent TBA"