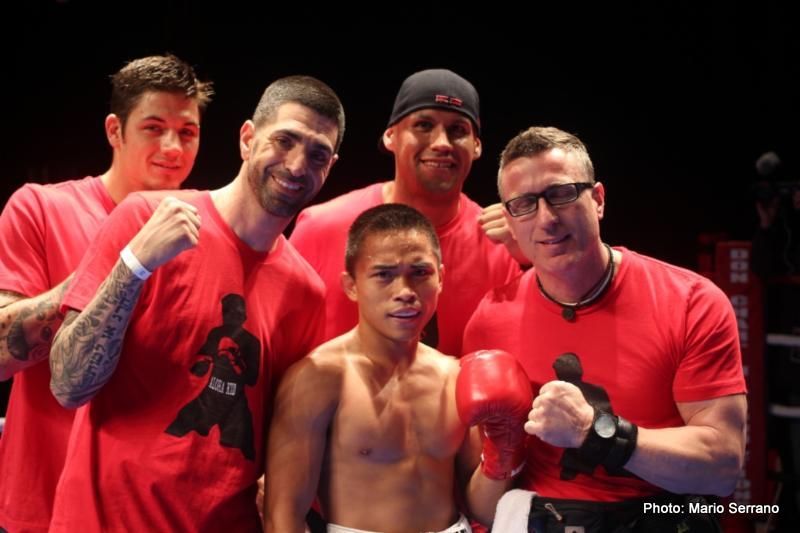 Share the post "Bruno Escalante scores brutal first round knockout agasint Lorenzo Trejo"
Redwood City, CA (February 28, 2014) – Tonight at the Fox Theatre in Redwood City, on the Don Chargin and Paco Presents boxing show, International Boxing Association (IBA) Super Flyweight Champion, Bruno "The Aloha Kid" Escalante (12-1-1, 6 KOs), scored a brutal 1st round knockout against, veteran Lorenzo Trejo (33-29-1, 20 KOs).
Escalante used his speed and quickness while throwing punches off peculiar angels before the violent knockout happened. It was a left hook to the body followed by a right hook to the head that sent the Mexican down for the count.
"I wanted to come out tonight and put on a great show for my fans," said Escalante. "All the hard work paid off and I got my opponent out of there in the first round. The knockout was set up with good footwork and it felt great. I want to thank my team for getting me ready for this fight. I couldn't do it without them."
Undercard Results
6-round Welterweight bout
Jonathan Chicas (13-1, 6 KOs) defeated Rogelio Castaneda (26-20-3, 8 KOs) by 4th round KO
6-round Middleweight bout
Ricardo Pinnel (7-1-1, 5 KOs) defeated Saul Benitez (2-5-1) by UD 59-55, 58-56 twice
4-round Cruiserweight bout
Tony Johnson (7-0, 3 KOs) defeated Harry Gopaul (1-6, 1 KO) by 3rd TKO
4-round Lightweight bout
Jesus Sandoval (3-1-3, 1 KO) defeated Cesear Valenzuela (4-4-1, 1 KO) by 1st round KO
4-round Jr. Middleweight bout
Darren Mallard (2-0) defeated Mauricio Zavaleta (1-1, 1 KO) by Split Decision 39-37 Mallard, 39-37 Zavaleta, 40-36 Mallard
4-round Heavyweight bout
Xavier Vigney (1-0, 1 KO) defeated Andrew Tinae (0-1) by 1st round TKO