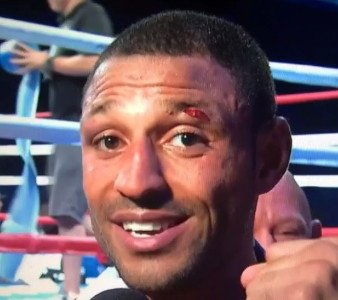 IBF welterweight champion, Kell Brook, has pulled out of his Oct 24. title defence against Argentina's Diego Chaves, allegedly due to a rib injury.
The Sheffield fighter has reportedly picked up the injury in sparring, an ailment which the more cynically minded among us might call 'conveniently timed' given he was due to fight for what we'll call a PPV purse on a non-PPV show next week.
"It's always a bitter blow when an injury causes a fight to be postponed, especially so close to the event," said promoter Eddie Hearn. "Kell picked up a rib injury in sparring yesterday and spent most of the day at hospital yesterday. Kell was desperate to fight but it was simply impossible and we will now look to reschedule the bout for the end of the year."
It may seem to some that repeating the word "yesterday" seems like overcompensation from the young promoter, although regardless of the legitimacy of the injury, the "solution" Hearn claimed he and his pals at Sky found last week to the PPV headache created by the rescheduling of Klitschko/Fury [which was independently carrying his Brook/Chaves card anyway] is now more than apparent.
December's Anthony Joshua/Dillian Whyte bill is going to be PPV – as one always suspected it would be – although UK fans are now being robbed of other scheduled fights in order to justify that decision and 'make it work'. Not just the Brook/Chaves fight, but also Sam Eggington/Frankie Gavin's crunch British welterweight clash, which was also postponed after a questionably timed foot injury to Gavin,[after which he was pictured sparring] which means it too is now also slated to appear on the December bill in London so Hearn and Sky can stack the card and justify the PPV fee.
The Oct. 24 Sheffield card will now be carried by Chris Eubank Jr, making his Sky Sports and Matchroom debut in a routine affair against unheralded American, Tony Jeter. He will then ALSO appear on the December 12. PPV against Ireland's Gary 'Spike' O'Sullivan. (See how this is taking shape?)
Yet regardless of December, those fans with tickets to Sheffield who may be seeking refunds [full or partial] due to the rescheduling of the card, Matchroom Sport have said they will officially announce refund details on Monday.
We all understand the fundamentals of PPV/non-PPV with Sky. The broadcaster choosing to use one promoter exclusively is a problem that's really another issue entirely, but Eddie Hearn should have just told fans the truth about this situation last week – 'Brook/Chaves wasn't financially viable without PPV, we'll do it in December.'
[PS. It could all be true of course…..you decide.]
Twitter @Undilutepoison