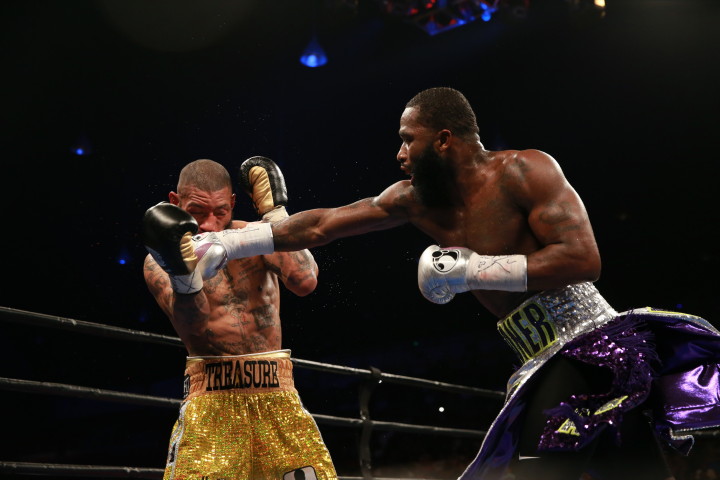 (Photo credit: Nabeel Ahmad/Premier Boxing Champions) Adrien Broner (32-2, 24 KOs) defeated Ashley Theophane (39-7-1, 11 KOs) by a 9th round stoppage victory tonight in a competitive fight on Premier Boxing Champions on Spike TV from the DC Armory in Washington, DC. Broner hurt Theophane with a right hand in the 9th. While Theophane was covering up against the ropes, Broner hit him with a nice left hand low. The referee then stopped the fight when Theophane alerted him that he'd been hit low. The referee Luis Pabon failed to make the right call, but as hurt as Theophane was, it really didn't matter.
Broner was going to finish him off anyway even if the referee hadn't made a mistake that cost Theophane. The fight was stopped at 1:10 of the 9th.
The crowd was booing the action in the 8th round. Theophane was pushing the fight at the time, but the crowd expected more from Broner.
—
Boxing results on tonight's DC Armory card:
Gervonta "The One" Davis TKO 6 Guillermo Avila
Robert Easter Jr. KO 5 Algenis Mendez
Anthony Peterson UD 10 Samuel Neequaye
J'Leon Love TKO 6 Michael Gbenga
Demond Nicholson UD 8 Joshua Okine
Patrick Harris TKO 2 Dedrick Bell
Shynggyskhan Tazhibay UD 4 Rairus Dudley
Gerald Tucker UD 4 Anthony Napunyi