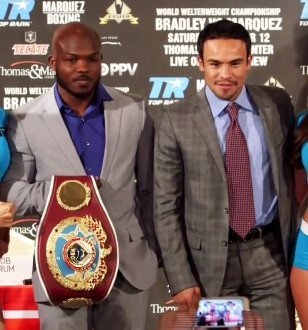 WBO welterweight champion Tim Bradley (30-0, 12 KO's) figures that he'll beat 40-year-old Juan Manuel Marquez (55-6-1, 40 KO's) simply by being the younger guy on October 12th in their fight at the Thomas & Mack Center, in Las Vegas, Nevada, USA.
Bradley has not looked good in his last two fights against Manny Pacquiao and Ruslan Provodnikov. Bradley's not really coming from a position of strength. He was given a gift decision over Pacquiao after spending much of the time running.
In Bradley's last fight against Provodnikov, he was hurt multiple times and knocked down when he made the mistake of trying to punch with him. Bradley made a decent looking fighter look like a great one in that fight, and he should consider himself very lucky that he got the win.
That bout likely would have ended with Bradley getting knocked out if there was an extra 30 seconds left in the 12th round.
Bradley said on HBO "Ain't no 40-yer-old going to whip my (expletive). It's not going to happen. ..You can't knock me out. Bring it on. Whether you like it or not, I'm destined for greatness. I'm going to beat Marquez…you in trouble."
Marquez said "We'll see. If he has so much heart and so much will, I want to see it on the 12th of October."
Bradley is going to have to use a lot of movement in this fight if he wants to have a chance to win it, because he's not going to be able to fight on the inside against Marquez. That style won't work.
Bradley also won't be able to stand in the pocket and trade with Marquez like he did against Provodnikov, because Marquez hits too hard. We don't even know how Bradley is going to handle Marquez's power shots.
Bradley suffered a concussion in the Provodnikov fight, and he said it took him a long time to recover from that. If there's any lingering effects from that concussion, Bradley could find himself getting knocked out by Marquez.
I don't expect Bradley to make the mistake of trying to trade with Marquez like he did against Provodnikov, but if he does then Bradley's going to have problems.