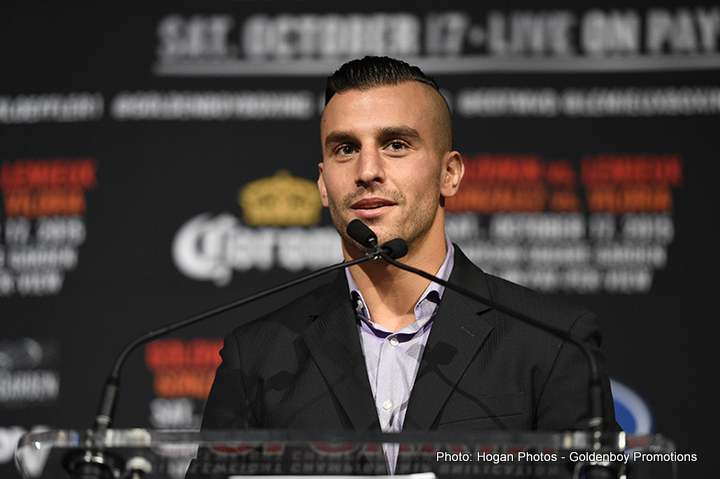 As has already been reported, the supporting card for the big Saul "Canelo" Alvarez-Amir Khan clash in Las Vegas on May 7th is beginning to take shape. One fight that is set for the pay-per-view event looks like an exciting if possibly short affair. Numerous sources (including Boxrec) have said how former IBF middleweight champ David Lemieux will face Glen Tapia at The T-Mobile Arena.
Lemieux, 34-3(31) should of course have faced James De La Rosa last Saturday night but failed to make weight for the agreed 163-pound catch-weight bout. Now – if the man who was stopped by Gennady Golovkin in his last fight back in October can make weight for the middleweight fight with Tapia – Lemieux could make his return to action on a far bigger stage. Tapia, 23-2(15) is probably best known for his brutal and losing fight with James Kirkland back in late 2013. That fight, which saw Tapia have a good start before being punished to a 6th-round defeat, was at 154-pounds; as was Tapia's last fight, a May 2015 stoppage loss (inside four-rounds) to Michel Soro.
But Tapia insists he was weight-drained and weakened from making 154 and that he has grown into a full middleweight. If he has, we could see a classic slugfest unfold in Vegas. Tapia is a warrior, while Lemieux is a very dangerous puncher. Put the two together, as Golden Boy have, and you could have a good fight on your hands. Lemieux has to be the big favorite to win, not least because he is the bigger man with the proven power, but also due to Tapia's inactivity.
Still, we don't know how the October hammering he suffered at the powerful hands of GGG have affected Lemieux. Will the Canadian star be the same force he once was? Tapia, if he can stand up to Lemieux in the early going, will let us know.
A fight that is almost 100-percent guaranteed to end up being decided by a KO one way or the other, Lemieux-Tapia could, if we're really, really lucky, bring back at least a suggestion of the ferocity the classic Hagler-Hearns war gave us. Not a bad prospect for an under-card fight that will support a main event that also looks a dead-cert for a knockout ending.