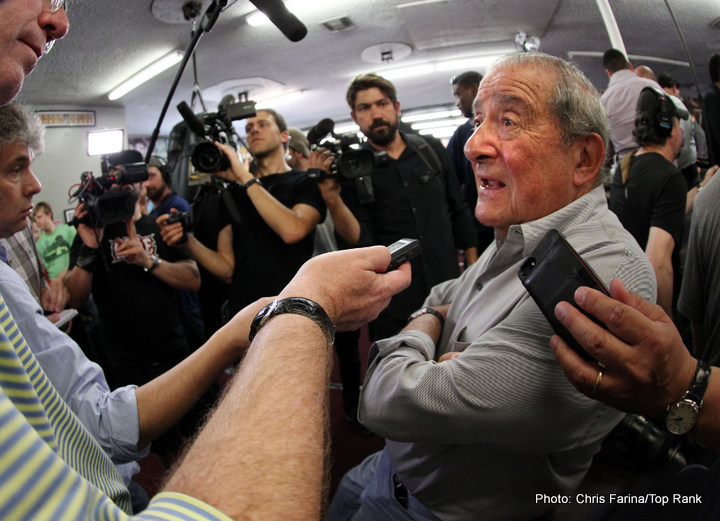 After a pretty serious shoulder surgery, some convenient divine intervention and regular immersion in that most hallowed of medicinal aids – [saltwater], Manny Pacquiao will return to action no later than April of 2016 according to his promoter Bob Arum.
After tearing his rotator cuff in May's disappointing mega-fight with Floyd Mayweather, there was some initial speculation that the Filipino would be looking to close out his contractual obligations and wind down his Hall of Fame worthy career with a couple of lower-key fights before retiring, although speaking to ESPN.com, Arum has confirmed that is not the case.
"Manny will be fighting next year," Arum said. "I think everything will be good for him to fight by February. He can probably start training by the end of this year. We'll let the doctor tell us when.
"I thought maybe Manny would fight one or two more times and when I said that, Manny corrected me. He said he wants to keep fighting."
After Floyd Mayweather snubbed him for the 49th and 'final' fight of his career, Britain's Amir Khan is now chasing a payday with Pacquiao instead, almost as a "next best thing" if you will, though it remains to be seen if the Brit will get his wish.
He remains favourite for the fight however, according to Pacquiao's manager, Michael Koncz, despite his links with Al Haymon, as the Brit has his own promotional company that is run by his family and it is them, not the elusive advisor, who will be dealing with Top Rank.
Pacquiao has been in his home country since the loss to Mayweather, juggling his various charitable commitments as well as working on his burgeoning congressional role. He has been using his profile to lobby for numerous political and cultural issues on behalf of the nation, in topics as diverse as potentially hosting the basketball world cup, to sparing the life of a convicted drug smuggler on death row in Indonesia.
After the recent saltwater healing emerged online it was also reported that Pacquiao missed a visit to the US to see his surgeon, Dr. Neal ElAttrache, although Arum confirms a check-up on the injury will now take place in the Philippines.
"Manny said his shoulder is fine but that is not good enough for me," Arum said. "He's supposed to have an MRI in Manila, I think later this week and is supposed to have it sent to Dr. ElAttrache to examine it. But Manny said he feels good."
After his return fight, Pacquiao will seek to then run for the Senate in a national election in May, ostensibly furthering his political ambitions even more. In light of this one has to surely ask how thinly can one man spread himself – and with him turning 37 in December, it's surely prudent to think he can't have all that much left at elite level for too much longer?
Regardless of that, the potential opponents in the frame for next year's return – besides from Khan, are IBF welterweight champion Kell Brook and in-house Top Rank man, Terence "Bud" Crawford, according to Arum – and like Floyd before them – you can't help think they are getting him at the right time…..
Twitter @Undilutedpoison