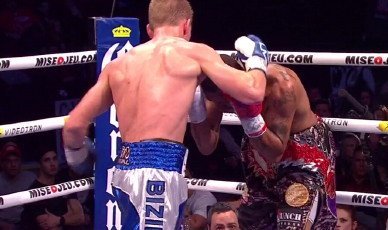 By Bill Phanco: Unbeaten welterweight contender Kevin Bizier (20-0, 14 KO's) proved that he's got what it takes to beat 40-year-year-old Nate Campbell (36-10-1, 26 KO's) by stopping him by an 8th round retirement on Friday night at the Cell Centre, in Montreal, Canada.
Campbell, who was little more than a short punching bag for Bizier all night long, was unable to come out for the 9th round after his back tightened up on him. Campbell had just had one of his better rounds of the fight, so it was a good point for him to stop fighting rather than continuing and risking a stoppage in the middle of a round.
Bizier teed off on Campbell from the 2nd round on with powerful hooks to the head and body. Bizier may never be a world champion because he's incredibly easy to hit and seems to have questionable stamina, but he's got decent power and a nice left hook. He can definitely beat guys like Campbell and the other weak opponents his handlers have fed him. You stick Bizier with a small guy or an old guy, and he'll do well. However, I don't see him beating any of the good welterweights in the division.
The 5'7" Campbell made a big mistake of moving up from light welterweight to welterweight for this fight because he doesn't have the size to compete at 140. Campbell is a former IBF/WBA/WBO lightweight champion and he's not been the same fighter since he moved up from lightweight to light welterweight. Since moving up in weight, Campbell has lost five out of his last nine fights with one of the bouts ending in a no contest. He's won three bouts against weak opposition.
***
Boxing results for undercard fights:
Baha Laham MD 10 Tyler Asselstine
Michael Gadbois MD 6 Krzysztof Rogowski
Didier Bence UD 6 Joey Dawejko
Steve Rolls UD 4 Ahmad Selemani
Steven Harvey SD 4 Stephane Tessier