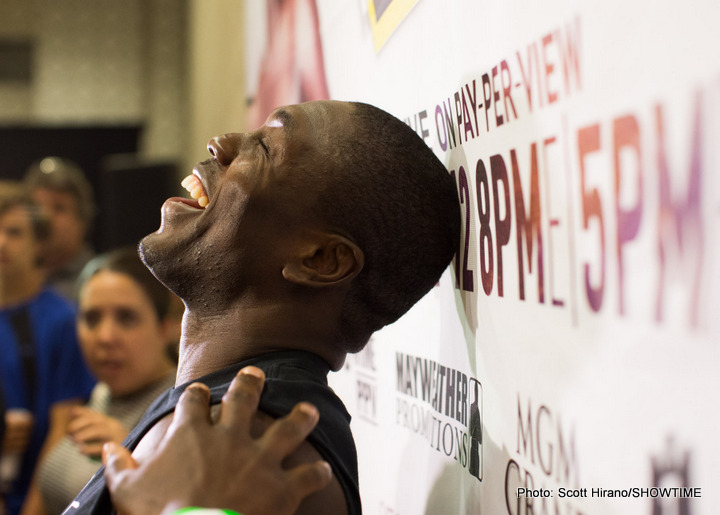 After he gave a spirited effort in his ultimately unsuccessful challenge to Floyd Mayweather in Las Vegas last month, Andre Berto is seeking to get right back in the mix, and claims he would love to reverse the losses on his record in as quick a time as possible.
The former WBC welterweight champion (30-4, 23ko) has now lost four of his last seven fights, beginning when he dropped his green belt to Victor Ortiz in their 2011 thriller, followed by a 2012 UD loss to Robert Guererro and a 2013 KO at the hands of fringe contender Jesus Soto Karass.
With Ortiz set to return to the ring in December, Berto claims he has found his mojo again and wants to settle old scores, blaming the series of defeats on personal problems out of the ring. They remain losses he says he wants to reverse.
"In a year I'm thinking about hitting Ortiz, Guerrero and Soto all in one year just to clean that s*** up," Berto said to fighthype.
"If he's [Ortiz] coming back, that's dope for me. People gotta understand where I'm at with this focus. I'd love to hit all three of them in one year, just to clean up my slate and go back at it.
"I shouldn't have lost to Ortiz, I shouldn't have lost to Guerrero, I shouldn't have lost to Soto," he continued. "I was going through a lot of ups and downs in my life at that time. But of course [the losses] opened me up and straightened me out in my mind and things."
Soto Karass hasn't boxed since a loss to Devon Alexander 16 months ago, and Guerrero looks set to being reduced to gatekeeper status over at Al Haymon's PBC, last time out scraping past Aaron Martinez in June. Yet whatever happens with those guys, Berto claims he wants the big fights regardless and says he is ready for any of the top guys at 147, such as belt holders Kell Brook, Tim Bradley and Keith Thurman.
"If not, if that [Ortiz/Soto/Guerrero] doesn't happen, I'll take any one of the top guys [at 147], 'cause it's wide open right now but it's deep, and I just feel like I'm next up [for a shot]"
The only sanctioning body that currently has Berto ranked in the top #15, is the WBA, at #1.
Twitter @Undilutedpoison