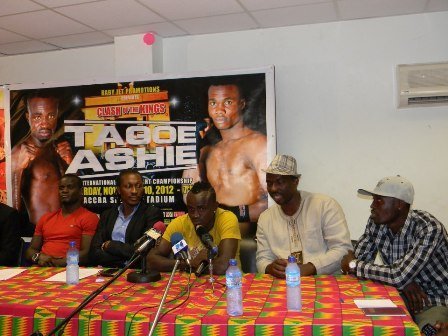 By Prince Dornu-Leiku: Red Tiger versus Game Boy; the nicknames of the two boxers are as electrifying as the epic showdown expected on November 10 when George Ashie faces Emmanuel Tagoe in the headliner of iconic Ghanaian football star Asamoah Gyan's BabyJet Promotions' maiden event at the Accra Sports Stadium.
At stake for the fight labeled 'Clash of Kings' is the WBA International Lightweight belt and the prospect of pushing up to challenge for the WBA belt itself but for many fans of both of these fighters, bragging rights is more important than anything else.
Both come from the revered Bukom suburb of Accra where most of Ghana's boxing world champions started their careers and both have been international champions in the past. Ashie (23-3, 16 KOs) still holds the Commonwealth Junior Lightweight title he won back in April this year whilst Tagoe, 19-1, 8 KOs, previously held both the WBO Africa and IBF Intercontinental Junior Lightweight belts.
Tagoe, popularly called Game Boy have been talking tough, even daring to deflate the ego of Ashie's highly regarded coach, Godwin Dzanie Alloway, the trainer Joshua Clottey claimed would have helped him beat Pacquaio.
"I'm not in any way disrespecting Coach Alloway but I'm not afraid of him and his boxers. I've fought about four of his boxers and I beat them all," Tagoe blabbed at Thursday's press conference to formally launch the countdown to the big fight.
Game Boy added, confidently: "For Kotey (Ashie), he is easy meat. Even when we were younger and he was a bit better, I used to beat him and how much more now that his fighting skills have deserted him. I'll finish him."
The quiet and unassuming Ashie won't talk much. "I'm confident I will win but boxing is in the ring so the ring will decide," he said simply.
A total of four other bouts have been confirmed for the fight night dubbed 'Clash of Kings.'
They are a Ghana and West Africa Super Bantamweight championship between Raymond Commey and Emmanuel Quartey, an International Middleweight contest featuring Ghana's Bastie Samir against Nigerian Alani Sulaimon, Ahmed Saraku vs Eric Kwardey in a Middleweight contest and a Featherweight championship involving Prince Ofotsu versus Michael Pappoe.