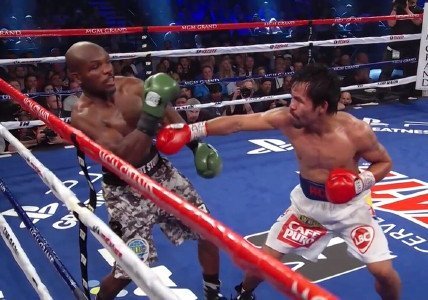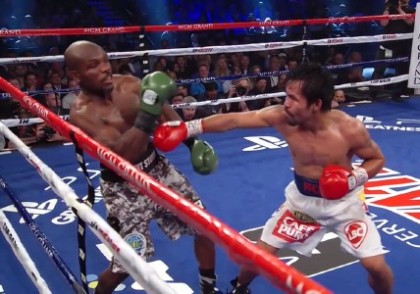 Top Rank promoter Bob Arum is reportedly going to take his time and wait until possibly August before he selects the lucky candidate for his fighter WBO welterweight champion Manny Pacquiao's next fight on November 22nd at the Venetian Casino & Resort, Macao, Macao S.A.R., China.
It's possible that the longer Arum waits the better the chances are that he can get a big name some the likes of Golden Boy Promotions. But if not, then his options aren't quite as good with Chris Algieri and Luis Carlos Abregu being two of the candidates to get the fight.
Neither of them have a large fan base in the U.S, so it would require a lot of marketing by Top Rank to get fans interested in seeing Pacquiao fight either of those two.
Arum told RingTV that he's in "No rush" to pick out Pacauiao's opponent, and that it could be "until August" before he makes his selection. Pacquiao and his close personal adviser Michael Koncz will have some input in the final decision making, but it'll likely be the three of them choosing on one of the guys that Arum has selected as the most viable options in terms of money.
Arum recently ruled out Danny Garcia as being a potential opponent for Pacquiao's November fight. It could be that Garcia having signed with Al Haymon would be a potential problem for making a Pacquiao-Garcia fight. Arum likes Amir Khan vs. Pacquiao, but he too is being advised by Haymon.
The best options for Pacquiao to make good money fighting would be Miguel Cotto or Saul "Canelo" Alvarez. But Arum wants to match Cotto against Canelo instead of having either of those guys boil down to a negotiated catch-weight to fight Pacquiao. Besides that, both fighters have already said no to the idea of draining down to fight Pacquiao for a catch-weight. But if Cotto can at least come back down to 154, it's possible that he could fight Pacquiao in a rematch in 2015.
Arum can make big money having both guys fight Pacquiao in 2015. It doesn't matter that he gets the loser of their fight. It would still be huge to have Pacquiao fighting Canelo or Cotto under any circumstance.