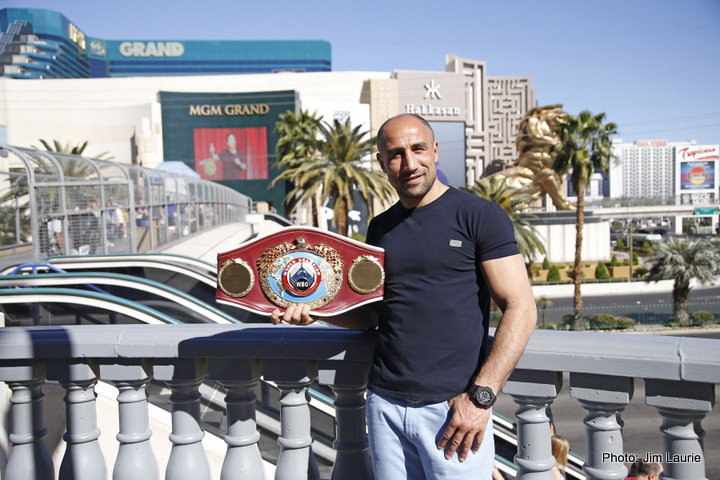 Arthur Abraham (44-4, 29 KOs) is promising his best ever performance when he steps through the ropes to defend his WBO World Super Middleweight title against Gilberto Ramirez (33-0, 24 KOs) on Saturday night at the MGM Grand in Las Vegas.
The two-weight World Champion, who will be making his Las Vegas debut on the undercard of Manny Pacqiauo's farewell fight with Timothy Bradley, knows he must bring his A-game to defeat the rising Mexican star.
''As a boxer your next fight is always your most important,'' says 'King Arthur'. ''In this case it is the circumstances which make this so special for me. I am fighting for the first time in Las Vegas, the fight capital of the World, against my mandatory challenger, a young undefeated fighter who will be doing his utmost to take my belt. This will be a tough test. I know I must produce my best ever performance to overcome this challenge and retain my WBO title.''
In preparation for his World title defence, the German fighter has undergone an intensive training camp, which has included high-altitude training in the Bulgarian mountains followed by tough sparring sessions at the Kienbaum Olympic Centre.
''Fighting away from home, I know I must win convincingly,'' says the 36 year-old. ''Especially in Las Vegas where the judges favour activity. This is what I have prepared for. The high-altitude training in Bulgaria has been extremely helpful. In terms of conditioning, I have rarely been better. The whole thing reminds me of my second fight against Edison Miranda.''
The reigning Champion aims to make history by becoming the first German fighter to win a World title bout in Las Vegas. ''This gives me even more incentive,'' he says. ''I'm proud to represent Germany on the World stage. I'm thankful for all the fans who will travel here to support me or who will stay up late to watch me on television. I promise not to let them down!''
This fight is a dream come true for me. I fought in Hollywood, Florida vs. Edison Miranda, against Andre Dirrell in Detroit and vs. Andre Ward in Carson, California. But the flair of a big-time event was missing. I was at Manny's fight vs. Shane Mosley at the MGM Grand in 2011 and the atmosphere captured my imagination. Afterwards, it was my wish to one day step into this very ring and on April 9 I will finally get the chance to share the spotlight with the "Pac-Man". I do not take a win that night for granted, as Gilberto Ramirez is a young upcoming boxer from Mexico, one of the greatest fighting countries.
He wants to write history by becoming the first Mexican to win a world championship at super middleweight. But myself being an Armenian, living and fighting out of Germany, I have two values to fight for: pride and honor. I will go into this fight with the following words on my mind: "Mejor morir de pie que vivir arrodillado!" This is going to be my greatest victory. Thank you!