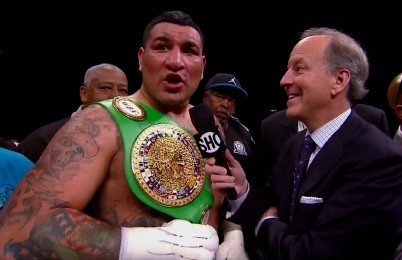 Golden Boy Promotions are reportedly looking to put together two big fights for September with heavyweight contenders Seth Mitchell vs. Chris Arreola and Austin Trout vs. Erislandy Lara, according to RingTV.
Trout-Lara would be a great fight for the Floyd Mayweather Jr. vs. Saul "Canelo" Alvarez card, but it's difficult seeing this fight being put on the card now that a huge chunk of the undercard fight money is going to pay Lucas Matthysse and Danny Garcia.
With the money those two fighters are getting, it's possible that Golden Boy might not have enough to add other talented fighters to the card unless they're willing to take less just to have the opportunity to be seen by millions.
Mitchell-Arreola would seem to be a mismatch as long as Arreola doesn't suffer an injury during the fight like Johnathon Banks did recently in losing to Mitchell by a 12 round unanimous decision last month. Mitchell was hurt by Banks a couple of times early in that fight, but then Banks stopped punching almost altogether and Mitchell was able to survive and win the fight.
If not for that, I think we would have seen Mitchell get stopped early again. I can't see Mitchell lasting more than one round against Arreola. Like I said, it would be a mismatch because Mitchell is still too green and his chin much too fragile to beat a solid heavyweight like Arreola.
Additionally, former WBC welterweight champion Victor Ortiz is a possibility for the Mayweather-Canelo undercard, as is a fight between IBF junior middleweight champion Ishe Smith vs. Carlos Molina. The Smith-Molina fight is a predictable one for the card because he's part of Mayweather Promotions, so it's a given that he would be a part of the September 14th fight card.
I'm not sure if this is a great addition to the card, but there are some hardcore boxing fans that would be interested in seeing Smith-Molina. It could end up being a grueling inside war with a lot of clinching from Molina. Hopefully the fight isn't too close to the main event so that boxing fans are potentially put off.