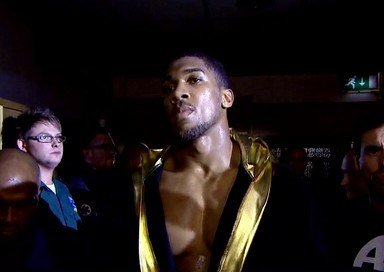 It has been confirmed that British heavyweight prospects Anthony Joshua and Dillian Whyte will indeed fight later this year, most probably in November or December for the British heavyweight title.
Joshua's promoter Eddie Hearn this week spoke with Whyte once again to hammer out a deal for the contest, with a view to getting the "Villian" out beforehand on his August 1st "Rumble on the Humber" show from Hull.
Hearn said to Sky Sports;
"I've been in talks with Dillian for the last couple of months, and originally it was penciled in for September 12th but he picked up that hand injury, his trainer has been involved in an accident, and not having boxed since February, it would have been wrong for him to go into a fight like this ill-prepared."
"But now he has got the chance to fight on Sky and build up to a huge domestic grudge match – that by the time it comes around – will be a major sporting event."
Whyte holds a victory over the Olympic gold medalist from their amatuer days when both fighters were relative novices, and he did floor Joshua – yet that was 6 years ago and both fighters have come a hell of a long way since then, although Whyte's progress was halted through a 2 year ban for unknowingly consuming a chemical on the banned list. (MHA)
Hearn said of the fight;
"I think this is Joshua's biggest test in and out of the ring. The rivalry is real and I could see that in the negotiations. Dillian will try and press all the buttons to get under his skin."
"You will see a different side of Anthony Joshua in this fight, especially outside the ring. The build up will be fierce."
One will suspect this will be added to a larger PPV card, although as Hearn had planned that for his September 12th date, he would surely have to wait for December to ask fans to fork out again?
PPV is still a sensitive subject in the UK, although the recent "Rule Britannia" triple world title show from London went some way to softening the blow for people, following last November's Bellew/Cleverly 2 disaster.
PPV or not, at last the fans will see what they wanted, and that is opponents in the opposite corner capable of standing in front of Joshua without being instantly blown away. One must hope for Whyte's sake he is given a decent warm-up test on 1st August and is given a fight he can learn a little something from in preparation. It'll be a delicate piece of matchmaking.
Two undefeated (heavyweight) prospects matched together at this stage of their careers. You don't see that nearly often enough in boxing.
I don't say it much – but bravo, Eddie Hearn.
Twitter @Undilutedpoison