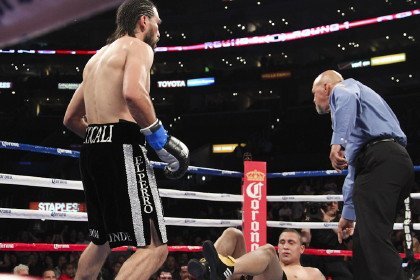 (Photo: Shpwtime) By Michael Montero: Alfredo "Perro" Angulo, who hadn't fought in over a year due to immigration issues, took out all of his frustration with one monster left hook to his opponent's chin tonight. This one is a sure-fire KO of the year contender that wowed the crowd at Staples Center in Los Angeles.
Both fighters came out throwing big shots with bad intentions from the opening bell. Then, just seconds in, the previously untested Raul Casarez ate a flush left hook which he never saw coming and immediately crumbled to the canvas.
Casarez, of Texas, was completely out before he even fell. The ref didn't even bother counting. As Angulo, now 21-2 (18 KO's), raised his arms in victory, the partisan crowd erupted with "Perro" chants. With all he has gone through in the past year, landing that left had to feel extra sweet.
Whether or not Angulo can climb to the heights he once had remains to be seen. But one thing is for sure – the next time he fights, boxing fans around the world will be excited to watch.
monteroboxing@gmail.com