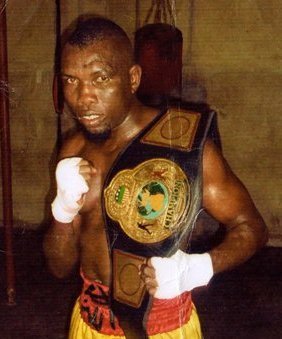 Mohammed Akrong of Ghana hopes to finally push his case for a world title crack when he gets the opportunity to win an international title on March 1 in Australia as he faces home favourite, undefeated Jake Carr with the WBO International Super Middleweight belt at stake.
Akrong, AKA Asua Lee boasts a professional career spanning over ten years and is a former Ghana, West Africa and Africa Boxing Union (ABU) champion but lost his bid for the Commonwealth Super Middleweight title last September to Rocky Fielding in the UK.
Now he gets the chance to put himself back in reckoning for a shot at the WBO world title itself should he prevail over the undefeated Australian Super Middleweight champion, Carr in the boxing extravaganza promoted by Lee Murray of Title Shot Promotions at the Melbourne Pavilion, Flemington, Victoria, Australia.
The Ghanaian boxer has been training fervently in preparation for his big night come March 1 in Melbourne so much his Accra based manager, Dauda Fuseni is confidently predicting victory and consequent annexation of the WBO International Super Middleweight title.
"The boxer is in good shape because he has trained very well for this fight and I want to assure Ghanaians that he will not let them down. The only thing we ask from them is their prayers and all other things will be taken care of," Mr. Fuseni said.