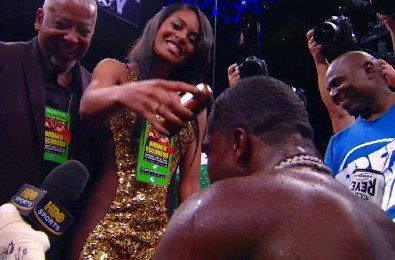 By Rob Smith: Adrien Broner (24-0, 20 KO's) will be getting an immediate shot at a title in his first fight at lightweight on November 17th by fighting WBC lightweight champion Antonio DeMarco (28-2-1, 21 KO's) on HBO in a still to be determined venue, according to fightnews.com. The fight still isn't quite a done deal but it's close.
This is unfortunately is one of the few appealing options that Broner has by fighting at lightweight, because the division is essentially empty of big named fighters now that Juan Manuel Marquez and Brandon Rios both have moved up in weight. Broner would be wise to fight once or twice in this division and quickly move up in weight to the light welterweight division where there are much better fights for him. Ideally, Broner needs to wind up at welterweight if he wants to get the big money fights. Fighting at lightweight is a dead end for Broner, and hopefully he realizes this sooner rather than later.
DeMarco is a decent fighter with okay power and skills. He's gotten a little better since he was blasted out by Edwin Valero in 9 rounds in 2010, but not a lot better. DeMarco has won his last five fights since his loss to Valero, beating Daniel Attah, Reyes Sanchez, Jorge Linares, Miguel Roman and John Molina. DeMarco took a ton of punishment in his win over Linares last year in an exciting fight. It's good that DeMarco got the win, but it was a grueling fight.
Broner just hasn't had anyone to fight at super featherweight. He's effortlessly beaten the best guys that Golden Boy Promotions has fed to him and it was clear a long time ago that he needed to move up in weight. He destroyed Vincente Escobedo in his last fight and that fight told you that Broner has no business fighting at super featherweight anymore after he failed to make weight.
Broner should make easy work of DeMarco. This is another mismatch for Broner. DeMarco's rail thin and there to be hit. That's not going to bode well for him. Look for Broner to destroy DeMarco in seven or eight rounds.