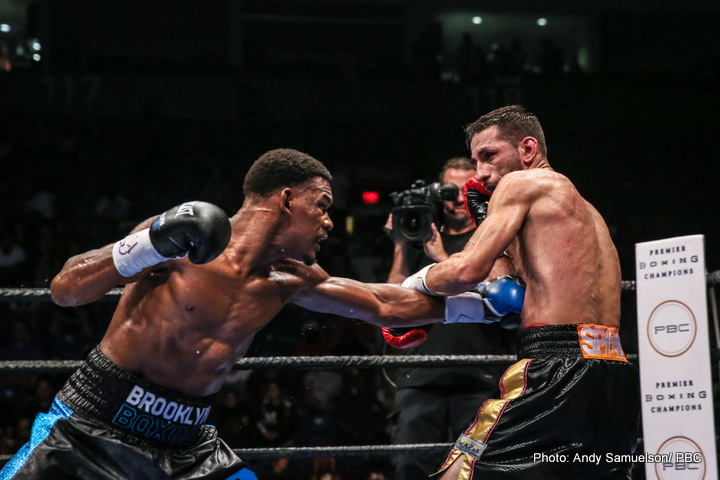 Though the fight is not yet official, it is highly likely that world middleweight king Gennady Golovkin will fight Danny Jacobs next, with the target date being December 10. And Abel Sanchez, trainer of course of GGG, likes the fight a whole lot, calling it a great fight. Speaking with ESPN.com, Sanchez said that in his opinion, Jacobs, holder of a version of the WBA 160-pound title, is the second best middleweight in the world today.
The WBA has ordered the fight and negotiations are ongoing, but Sanchez says he very much hopes the fight gets made. And, aside from Saul Canelo Alvarez and maybe Billy Joe Saunders (who holds the WBO middleweight belt, the sole 160-pound strap GGG does not yet own) who else is there at the weight who can realistically challenge Golovkin? Sanchez rates the once-beaten New Yorker highly and he says the fight has an interesting story, what with "Miracle Man" Jacobs having overcome the odds in a big and important way by beating cancer.
Sanchez says GGG can ill afford to become complacent against Jacobs.
"The fact that this kid beat cancer, how is Golovkin going to scare him? That's a guy who really believes there is nothing he can't handle," Sanchez told ESPN.com. "Golovkin understands that Danny Jacobs would be coming at him with that kind of mentality. Our job is just to make sure that with all of Gennady's success, that he doesn't get complacent. A fight with Jacobs would definitely motivate Gennady. I think it's a great fight. It would be a great fight for the fans and it's an opportunity for a great story in Danny."
Jacobs may well be the second best middleweight in the world right now, as Sanchez says. Maybe, just maybe, Jacobs, 32-1(29) would also be Golovkin's toughest pro opponent thus far in his ultra-dominant career, one that has seen Triple-G go to 36-0(33). Jacobs, beaten only by the highly dangerous Dmitry Pirog back in 2010, is tall, he has speed, skills, power and heart. This is not to suggest Jacobs can and will defeat GGG; he simply gives him a good fight.
And as great as Golovkin is, fans are happy enough to settle for that. Most people feel that NO-ONE can beat today's version of GGG (and that only age can get the better of the 34-year-old) but someone has to try. Next up it looks like being Jacobs. He's already pulled off one miracle, maybe the 29-year-old is capable of pulling off another one.