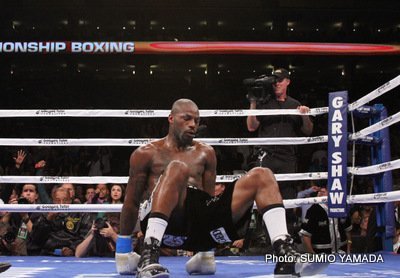 By Emilio Camacho Esq. – As I predicted, Andre Ward outclassed Chad Dawson; however, there was several misses in my prediction.
First, I predicted that the first round would be uneventful and that Ward would win it. Although round 1 was indeed uneventful, surprisingly, Dawson looked sharp and strong thereby winning the round (at least in my view). Hence, I was only partially correct in my thoughts.
Second, I predicted that Dawson would win rounds 2 – 4. I was wrong. In rounds two and three, Ward unveiled his left hook droping Dawson to the canvas. Dawson had no hope after that and you could see it on his face. This is when we get to what I was talking about and the main argument of my previous article.
First, I stated that Ward would show us something we had not seen before and he did just that. Ward made the guy who defeated Tarver, Johnson, Hopkins, and Adamek, among others, quit in round ten after dropping him again. Dawson said he was "done." In reality, almost no one expected a stoppage. I did not think the stoppage would come but I did think that Ward would be stronger and would show it in an extraordinary way. Well, he did.
Second, and most importantly, I stated that Ward would outclass Dawson starting round 5. I said that Dawson would have no answer if he boxed or fought close against Ward and that Dawson would be surprised by
Ward's skills and strength. Here, I was right about the prediction, but I definitely did not think Dawson would not be able to compete at all. It was shocking to say the least. Overall, it was a better fight than anyone expected and we should all be thankful for that. Boxing needs more bouts like these, though more competitive in nature.
Finally, I have two questions for my readers: 1) is Ward really that good or was Dawson really that bad? 2) Should Ward be #1 P4P ahead of Pacquiao and Mayweather given that he has fought all the top fighters in their prime and barely lost a round (unlike Mayweather and Pacquiao who have at least missed each other)?
As always, I welcome your comments. You can also email me at boxingcamacho@gmail.com
Now, I am looking forward to Chavez v. Martinez next week. Maybe I will come up with something by Thursday, though I am still thinking about this one.