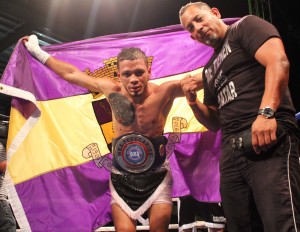 Undefeated Rey "El Maestro" Ojeda ( 11-0, 6 KO's ) captured the vacant lightweight WBA Fedecaribe title by defeating via TKO at 0:01 of the fourth, Fernando Torres ( 18-4-1, 10 KO's ).
The referee stops the fight due to a cut on Torres right eye by a punch but instant replay shows it was from a headbutt.
Torres camp will protest the decision.
Co featuring the event, Miguel "el Gallo" Marrero ( 7-0-2, 4 … Read Article