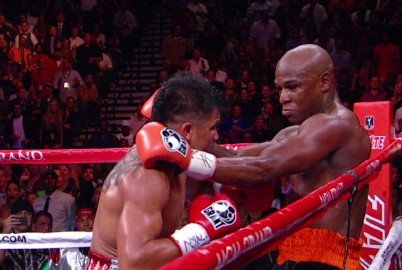 By Rob Smith: Floyd Mayweather Jr. and Manny Pacquiao have reach an undisclosed out of court settlement to resolve Pacquiao's defamation lawsuit against Mayweather. The terms are confidential, according to AP. Each party will pay for their own attorney fees for the case.
The lawsuit came about from alleged comments made by Mayweather and his father Floyd Mayweather Sr. that Pacquiao had used banned substances to accomplish his feats. Last week, Mayweather was ordered to pay $114,000 after failing to show up for the Pacquiao case.
With this case behind them this could be the last impediment to putting together a Mayweather-Pacquiao blockbuster pay per view bout in early 2013. Mayweather wants the fight, Pacquiao wants the fight, and the boxing public badly wants to see them fight. Although it might be a little late in the game for the fight to be put together, it's better late than never.
Pacquiao can't afford to wait because he's clearly lost a step and isn't the same fighter he was three years ago. He lost his last fight to Tim Bradley, and he perhaps should have lost his fight before that against Juan Manuel Marquez.