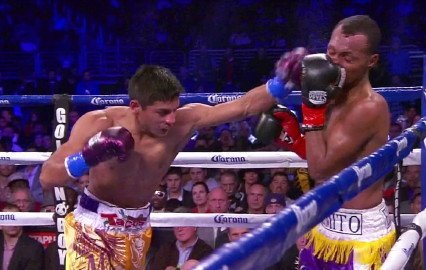 by Emilio Camacho, Esq: Abner Mares is young, disciplined, undefeated and hungry. That is a powerful combination in boxing. He has had a magnificent run and last week he did not disappoint.
Mares' story is compelling. He was born in Guadalajara, Mexico and was brought to the United States as a child to the city of Hawaiian Gardens, California. As many youngsters from low income households, gangs and bad company pushed him into trouble. As a result, his father sent him back to Mexico in order to avoid a tragic result (jail or death).
Back in Mexico, he took boxing seriously. He went to the Olympics and lost a highly controversial decision against Zsolt Bedak of Hungary by 27-24. Some experts believe he could have won the gold medal.
As a professional, his success has been intensifying. First, similar to Andre Ward, Mares won the Showtime four-man single elimination Bantamweight Tournament, which also included the top fighters at the time—Vic Darchinyan, Yonnhy Perez and Joseph Agbeko. The final match of the tournament against Agbeko was a controversial one. As a result, Mares accepted a rematch (something he did not have to do) and won that convincingly. He settled the controversy the way it should be done: in the ring. You gotta love that approach (yes, Floyd and Manny, but mostly Floyd now).