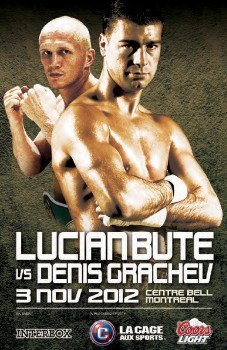 By Michael Collins: Former IBF super middleweight champion Lucian Bute (30-1, 24 KO's) will be trying to pump some life into his career tonight in moving up to 175 to challenge NABF light heavyweight champion Denis Grachev (12-0-1, 8 KO's) in a very dangerous fight for the soft-chinned 32-year-old Bute at the Bell Centre in Montreal, Canada. Bute was blasted into oblivion in his last fight against Carl Froch in Nottingham last May, and Grachev can punch with the same kind of power that Froch has.
Grachev is about as fast as Froch, but not quite as tall. Bute wants to fight Froch in a rematch next March in Montreal, but he's got to get past Grachev in order to get to that fight. If Bute can't beat Grachev then the big money fight against Froch will go down the drain along with it.
Bute has figured out what he did wrong in the loss to Froch and he doesn't plan on making the same kind of mistakes against Grachev tonight. Specifically what Bute has to avoid is backing up agaisnt the ropes and just standing in one place trying to look one big shot. It's no secret that Bute has been matched softly for the past six years and it's caused him to develop up a lot of bad habits like looking to load up on single punches instead of throwing combinations like he once did early in his career.
Bute kind of fell in love with his power in the last couple of years after scoring a number of knockouts from single shots. When Bute tried this with Froch, he found it not working and he ended up getting beat up in that fight. It's pretty obvious what Bute needed to do in order to beat Froch by using movement, but Bute chose to stand in one place and he paid the price for it.