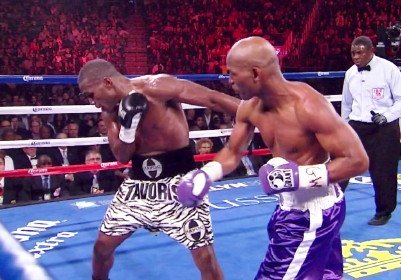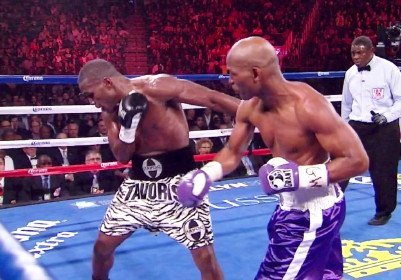 By James Slater – Living legend Bernard Hopkins did it again last night in New York: he took a good, strong unbeaten young fighter to school and relieved him of his world title. Arguably putting on his best show since taking away Kelly Pavlik's perfect record in 2008, the amazing 48-year-old totally confused the powerful and dangerous Tavoris Cloud over 12 enthralling rounds to take the IBF 175-pound belt.
Enthralling rounds? Well, it's certainly been said that Hopkins is a boring fighter, but if you do not enjoy ring mastery, ring brilliance and, yes, sheer genius unfolding before your eyes, then maybe the problem is more with you and less with 'Nard. And Hopkins, now 53-6-2(32) sure put all his ring craft, all his savvy and experience and all his boxing brains on display last night. Scoring more rounds for defence perhaps (B-Hop cares less about punch stats and more about history stats!), Hopkins bamboozled Cloud, he had him tied up in knots (as ring caller Dave Bontempo stated on air) and he had Cloud bleeding and well beaten.
Read moreHopkins The Master Does It Again, Takes Another One To School!