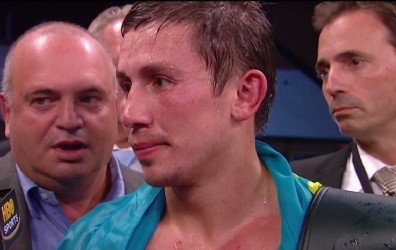 By Dwight Chittenden: WBA World middleweight champion Gennady Golovkin (24-0, 21 KO's) made it look easy tonight in halting Poland's Grzegorz Proksa (28-2, 21 KO's) in a a 5th round knockout at the Turning Stone Resort & Casino, in Verona, New York. Golovkin knocked the badly overmatched Proksa down three times before the brutal slaughter was ended in the 5th round with Proksa knocked face down on the canvas.
Golovkin put Proksa down in the 1st, 4th and the last time in the 5th. You could tell that the end was near in the 4th round when Golovkin knocked Proksa down with a powerful right hand to the head. Although Proksa was also knocked down in the 1st, but this time he was really hurt and he took punishment for the remainder of the round.
In the 5th round, Golovkin came out like a shark smelling blood in the water, ignoring Proksa's futile attempts to fight him off with wild shots, Golovkin got Proksa near the ropes and badly hurt him with a big right hand. Proksa, now staggering, was helpless as Golovkin added the finishing shots to the head to put him down face first on the canvas. Proksa gamely got to his feet but he was badly dazed and the referee did the right thing by calling a halt to the fight at 1:11 of the round.