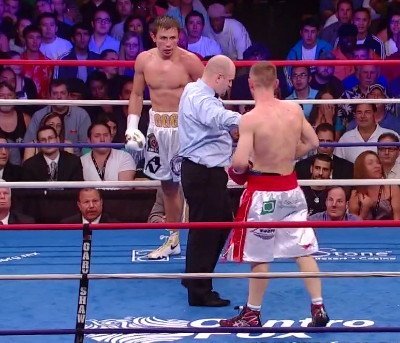 By Paul Strauss: Gennady G.G.G. Golovkin did a pretty good job Saturday night at the Turning Stone Resort and Casino in Verona, N.Y. trying to establish his worthiness for all comers. Quite often when a fighter boasts he's ready for the best (in several divisions), his words are dismissed as just so much talk. Fans realize that often a fighter is trying hard to convince himself as much as anyone else.
In Golovkin's case, Fans might dismiss the apparent bragging as a problem in translation. Maybe English translated to his native Kazakh (or possibly Russian) language back to English got mixed up with the effort. One thing for sure, Golovkin did a number on the previously once defeated Polish southpaw fighter named Grzegorz "Super G" Proksa, who sported twenty-one knockouts of his own to surpass Golovkin's twenty. Going into Saturday night's bout, he was viewed as no slouch, but despite that fact, Golovkin managed to knock him stiff.
Just cruising along in the first round, Golovkin still managed to drop Proksa. There was thought by some he might have slipped or stumbled over Golovkin's feet. Doubt diminished In the second round, when G.G.G. fired off several particularly nice left hooks to the body, which changed the expression on the Polish fighter's face to something resembling a silent scream.