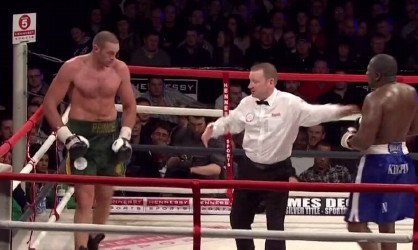 By Phenyo Molefe: Given Tyson Fury's previous bouts, recent outbursts and the clear articulation of his goals; one would not be at fault to believe that we were about to witness Tyson unleash punishment on an 'ill-prepared' but proven Kevin Johnson. Tyson had to make a statement.
In the opening round, Fury jumped on Johnson with some jabs to the body not giving him sufficient time to find his footing. It looked like we were about to see a new and revised Fury as he presented movement and a variation of punches from all angles. He moved with improved fluidity, comfortably establishing his range and following through with some meaningful combinations.
The second round, begun with the near feverish pace with which Fury had ended the last round. Fuming with a blizzard, setting the jab on a stinger as he pelted Johnson's body with little restraint. Johnson did have a little success when he pinned Tyson in the corner for a moment or two; however Fury replied with a pivot setting pressure back on Johnson with some telling hooks. He was definitely boxing well and grew in confidence, taking firm control of the bout.