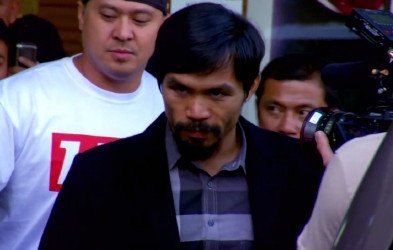 By Michael Collins: Top Rank promoter Bob Arum is close to putting the finishing touches on a fourth fight between Manny Pacquiao and Juan Manuel Marquez. The bout will take place on December 8th in Las Vegas for a still yet to be determined pay per view asking price. Count on it being in the $49.99 range.
Arum said to Dan Rafael at ESPN "We're having a meeting about Manny's next fight and to get it finalized. My goal is to finalize the Marquez fight, but I have to meet with [Michael Koncz]."
This might good news or bad news depending on whether you're one of the fans that want to see Pacquiao fight Marquez for a fourth time. Hardcore boxing fans are getting a little tired of seeing Pacquiao fight Marquez again and again, but casual boxing fans seem to really like the fight judging by the 1.2 million fans that purchased tickets for the Pacquiao-Marquez III fight last November. With boxing fans continuing to show interest in seeing Pacquiao fight Marquez, Arum is likely going to keep this rivalry going until it no longer brings gold for Pacquiao, him and Marquez.