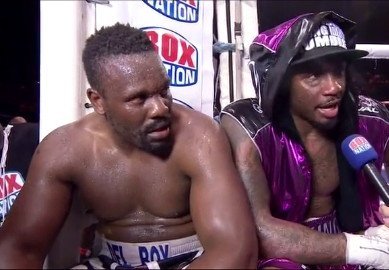 Tonight at Wembley, Dereck Chisora got back to winning ways with a 6th-round stoppage of previously unbeaten Malik Scott. The ending, at the very least a slightly controversial one, came at the two minute and 56-seconds mark of the 6th.
Chisora, in improving to 17-4(11) said after the fight that he wants to go back to Germany to fight the Klitschkos, again in the case of WBC king Vitali. Scott, now 35-1-1(12) said "everyone knows I beat the count," yet otherwise took the defeat graciously.
So, now to the controversy. Scott, ahead on the cards at the time of the stoppage and having boxed very well, was belted by a right hand shot that landed on the back of the head as he was on the ropes. Scott went down, smiling as he did so, appearing relatively unhurt.