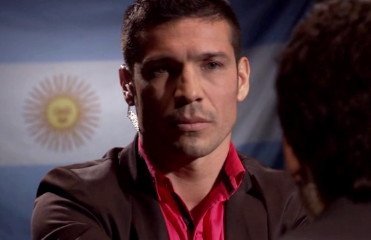 By Rob Smith: Sergio Martinez (49-2-2, 28 KO's) has some really big hopes for what a win over WBC middleweight champion Julio Cesar Chavez Jr (46-0-1, 32 KO's) will potentially do for him when he meets Chavez Jr. on September 15th in Las Vegas, Nevada. Martinez, 37, sees a victory over the young 26-year-old Chavez Jr. as something that could open doors for him to land a big fight against Floyd Mayweather Jr. and if not it could put him on the doorstep to a big money fight.
Martinez said on Max Kellerman's Face off on HBO to Chavez Jr "After I beat you, I will be nipping on Mayweather's heals."
So is Martinez deluded about his aspirations of wanting to get a big money fight against Mayweather? We've seen Robert Guerrero talking up a fight with Mayweather recently, and it's pretty clear that Guerrero has no chances of ever landing that fight unless Mayweather wants decides on taking an easy stay fight. The 37-year-old Martinez could also be kidding himself if he thinks that Mayweather will show any interest in fighting him.