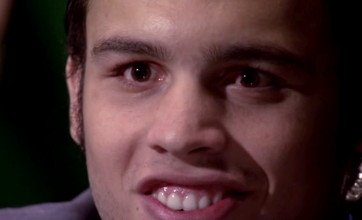 By Rob Smith: WBC middleweight champion Julio Cesar Chavez Jr. (46-0-1, 32 KO's) believes that his opponent Sergio Martinez (49-2-2, 28 KO's) will be using a lot of movement on September 15th to try and keep away from his heavy pressure in their HBO fight at the Thomas & Mack Center, in Las Vegas, Nevada. However, the 26-year-old Chavez Jr. doesn't see Martinez having much success in trying to keep away from him.
Chavez Jr. said to Max Kellerman of HBO on their recent Chavez Jr-Martinez face off with Kellerman: "The ring is square like this. [Chavez Jr. then uses his hand to draw an imaginary square on the table]. You can't get out."
Martinez: "Neither can you."
Martinez will likely fight Chavez Jr. as he'd done against past slow-footed sluggers such as Kelly Pavlik and Alex Bunema by using constant movement mixed in with periodic attacks. Martinez probably won't throw a lot of punches, but he'll make his shots count by landing the harder shots. The much heavier Chavez Jr. has little choice but to try and cut off the ring on Martinez to try and force to fight on the inside, as Chavez Jr. doesn't have great skills on the outside, and he won't be able to move a lot without taking a big risk that he may tire out like we've seen him do in some of his past fights. Tiring out against a fighter like Matt Vanda is one thing, but if Chavez Jr. fades against Martinez he could get knocked out.