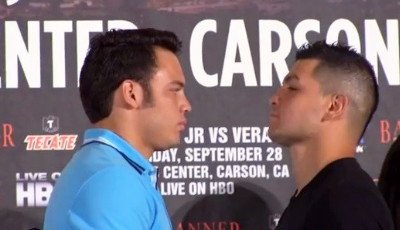 According to trainer Ronnie Shields, successful negotiations have taken place to append a new weigh-in limit for the big Saturday night showdown between Julio Cesar Chavez Jr. (46-1-1, 32 KOs) of Culiacan, Mexico and Bryan Vera (23-6, 14 KOs) of Austin, Texas.
After the fight card's final press conference convened this afternoon at the Crystal Ballroom of the Millennium Biltmore Hotel in Los Angeles, California, both parties, including promoters Top Rank, Inc. and Banner Promotions, reached an accord binding both combatants to a new weigh in limit of 173 pounds for this Friday afternoon's weigh in ceremony.
Although the added weight limit came as no surprise to most media members who had been following the current Chavez/Vera novella, veteran trainer Ronnie Shields made a surprise stipulation within the new fight agreement.