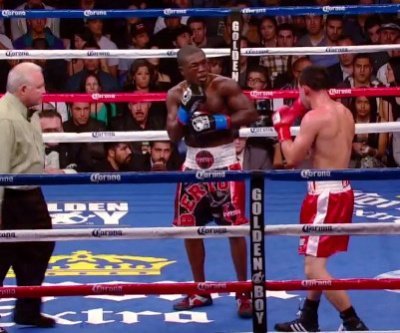 By Bill Phanco: If there's one area in Andre Berto's game where you have to latch onto to assign blame for his 12 round unanimous decision loss to interim WBC welterweight champion Robert Guerrero last Saturday night it was with Berto's experiment with the Mayweather style shoulder roll defense. Berto likely would have won the fight had he not wasted time using the shoulder roll defense, because it was one big fail for him.
Berto looked uncomfortable using the shoulder roll, and it didn't work for him in this fight because Guerrero was able to sail his shots right over Berto's left shoulder all night long. The purpose of the shoulder roll is to avoid getting hit, but it looked like Berto had no clue how to use it.
It was immediately clear in the opening round that Berto's shoulder roll defense was a failure agaisnt Guerrero, because he was getting hit nearly at will. Berto should have abandoned the shoulder roll in the next round and gone back to his old defensive style. Berto has never been a good fighter defensively, but he's never been as bad as he looked last Saturday when he trying to fight using the shoulder roll.