Maureen Shea: Green-eyed Angel in Paradise
26.01.07 - By David Pambianchi: On Jan. 25, 2007, at the Paradise Theatre, Maureen Shea met Elizabeth Villareal for a scheduled six round Junior Lightweight bout, which turned out to be six solid rounds of slugfest.

A landmark of community history and entertainment, the renovated Paradise Theatre once again transported New Yorkers to a fantasy setting, and provided Maureen with a stage for a hometown match.. Before the first blow, the theatre excited the imagination, Italian courtyard style complete with columns, statues, green, red, gold trimmed ceilings and walls, wood, marble, Raud iron railings and a painted blue sky above the audience. And if anyone shivered past the park this frozen Thursday night, they may have noticed Edgar Allen Poe's Cottage, an omen of grueling things to come.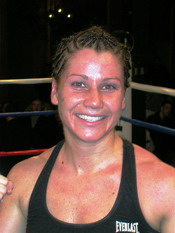 Hovering around 10 degrees, icy Bronx temperatures even chilled the theatre, but Elizabeth sizzled round after round with continuous volleys of left and right punches. However, Maureen managed to dip away or block the majority of roundhouse-like blows and Elizabeth's hard right also kept deflecting off Maureen's left shoulder. While this may have frustrated Elizabeth, Maureen hit her targets more frequently, slipping in both jabs and an occasional hard right counter. The pounding and battling never let up for more than an instant, over and over, toe to toe for the entire bout. These ladies fought with guts and grit, determination and pain.

Though both boxers may have experienced an Edgar Allen nightmare of a fight, they fought bravely, and proud. Elizabeth proved she had heart, fighting in the hometown girl's house. But after six punishing rounds, Maureen's experience and skill proved decisive and won Shea the unanimous decision.

Article posted on 27.01.2007
previous article: The War of Words: Adamek vs. Dawson