Sam Peter Furious at WBC, Klitschko, Maskaev!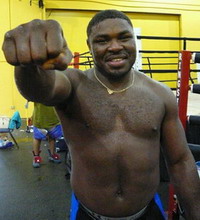 24.01.07 - Enraged would best describe normally easygoing WBC mandatory title challenger Samuel "The Nigerian Nightmare" Peter (photo by Ed Keenan) at the reportedly imminent announcement of former champ Vitali Klitschko's return to the ring. Peter's foul mood comes in reaction to news that the returning Klitschko will be allowed to step over him, their mandatory number-one contender, and immediately face current belt holder Oleg Maskaev, and thus further delay his title shot.

"It's a disgrace! I fought my way into this position without taking shortcuts. I paid my sanctioning fees not once, but twice. I wasn't even supposed to fight the second time, but people were questioning their judges, so I fought again to prove myself."

Peter maintains he was promised he would next face Maskaev both times he defeated James Toney last year, in fights that were sanctioned by the organization as title eliminators. The idea that, after all those promises and the sanctioning fees he paid in both fights, Peter will now have to step aside, is more than he says he's willing to take..

"They're trying to take away everything I worked for all those years. I'm number one and they're going to have a very big problem if they allow this. They are putting their own hands in the fire and making a big mistake."

Peter's wrath is also pointed at Klitschko, who he says isn't deserving of this opportunity.

"Why did he (Klitschko) wait till I beat Toney the second time to say he was coming back? Why not announce before? Because he's not a true champion. He got his title when Lennox Lewis retired. And now he wants to fight Maskaev, who is also not a true champion because he's avoiding me. Let me go against Maskaev and I'll knock him out and then I'll knock out both Klitschko brothers on the same night!

Peter says he and his team still fully intend to face Maskaev next and are currently beginning training for the showdown. "They tried to bribe me to get me to shut up. I don't care about money. I want the heavyweight championship. I came to the United States six years ago and I've worked very hard to be in this position. They are all going to pay for this!"

Article posted on 24.01.2007
previous article: Sulaiman: I'm Waiting For Follow Up Phone Call From Vitali Klitschko!
next article: Euro Boxing Roundup: Brähmer vs Velazco Feb 24, More