Russian Giant Valuev marches on, Captain Huck keeps winning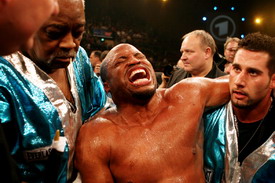 21.01.07 - Photos: David Martin Warr - Don King Productions - Undefeated WBA heavyweight champion Nikolai Valuev (46-0, 34 KOs) is slowly but surely closing in on Rocky Marciano´s record of 49 wins without defeat as he stopped Jameel McCline on Saturday night in Switzerland. In round three of the "biggest" heavyweight fight ever, McCline went down after exchanging punches with the Russian Giant. He immediately clutched his knee and realized his kneecap had popped out, prompting the referee to stop the bout on the ring doctor´s advice.

"For a heavyweight that weighs more than 270 pounds it is vital to keep the balance all the time," Valuev said after the fight. "Jameel wasn´t in a stable position at that very moment." McCline was stretchered out off the ring and immediately taken to a local Swiss hospital for further examination. His patella tendon appears to be torn. "I feel very sorry for him," added Valuev. "But something like this can always happen in sports. Every athlete runs danger of picking up injuries. Too bad we couldn´t show the fantastic audience a longer fight." ..

Saturday´s stoppage was Valuev´s 34th KO in his 46th victory. He was ahead on two scorecards when the fight was halted. "The bout could have taken a much worse ending for Jameel," the 33-year-old warned. "I would have won anyway. I had found my rhythm and felt very comfortable. I would have knocked him out in the sixth or seventh round."


Manager Wilfried Sauerland held a similar view. "We knew Jameel would be very dangerous in the first rounds," he said. "But later on there could just be one winner and that would have been Nikolai. Too bad the accident prevented this from happening. I feel sorry for Jameel and wish him all the best."

Speaking from a chair in the middle of the ring, McCline, visibly in pain, admitted he was pondering retirement. "This is very disappointing for me," he said. "I felt I could have won tonight."

Meanwhile, Don King was celebrating another TKO victory of his "Russian friend". "Niko has the hardest punch I have ever seen," enthused the promoter. "He knocked McCline out with his kneecap-busting-bunch. He hits so hard. He will unify the division and win all four belts."

Next up for Valuev is his first mandatory defense against Ruslan Chagaev.

"He will knock Chagaev out," vowed King. "And if Klitschko is still standing by then, he will also beat him. Niko is the undisputed number one."

On the undercard, EU cruiserweight champion Marco Huck successfully defended his newly-won title with a lopsided points victory over Ismail Abdoul. Captain Huck was ahead on all three scorecards (118-110, 118-110, 118-110) as he went the full distance for the first time in his impressive career. "That was a great test," said Huck. "I am glad to have proven that I can box well for 12 rounds."

Coach Ulli Wegner was full of praise for the undefeated 22-year-old (18-0, 14 KOs). "He did a great job", said Wegner. "This experience will help him in his development."


Article posted on 22.01.2007
previous article: Speedy Gonzales Training With Vivian Harris
next article: De La Hoya Brings Escalante Back To Cicero Stadium