Showtime Photos: The "New" James Toney Dines Wednesday In Florida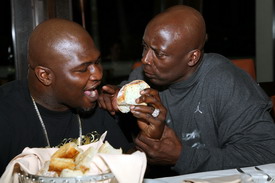 04.01.07 - Photos: TOM CASINO / SHOWTIME -- Former three-time world champion and current No. 2-ranked heavyweight contender James "Lights Out" Toney and the newest member of Team Toney, renowned training and fitness guru and Tae BoŽ creator Billy Blanks, at dinner Wednesday night at the Seminole Hard Rock Hotel and Casino in Hollywood, Fla. In addition to thousands of sit ups, hundreds of rounds of sparring and many miles of road work, Blanks also has helped Toney resist empty calories and excess carbohydrates as he prepares to face No. 1-ranked contender Samuel Peter in Saturday's eagerly awaited WBC Heavyweight Elimination bout on SHOWTIME (10 p.m. ET/PT).

Second photo: A lean-looking James "Lights Out" Toney enjoyed a salad for his main course Wednesday. Toney is readying himself for a highly anticipated 12-round rematch with Samuel Peter in a WBC Heavyweight Eliminator Saturday on SHOWTIME at 10 p.m. ET/PT (delayed on the West Coast). Third photo: James "Lights Out" Toney with his wife Angie and son, James "Little Lights Out" Jr., at dinner. .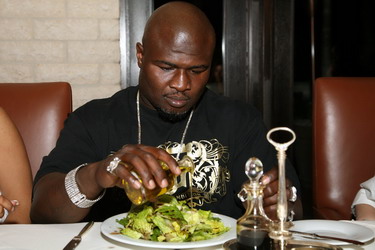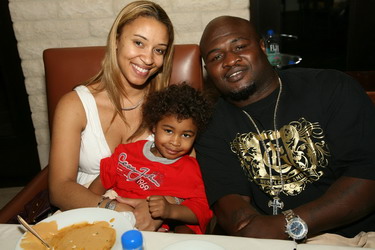 Article posted on 04.01.2007
previous article: Toney-Peter 2 Prediction Poll
next article: "The Predator" Vanda no longer hunted by Bonsante



If you detect any issues with the legality of this site, problems are always unintentional and will be corrected with notification.
The views and opinions of all writers expressed on Boxing247.com do not necessarily state or reflect those of the Management.
Copyright © 2001- 2015 Boxing247.com - Privacy Policy l Contact