Cotto-Quintana-Margarito-Clottey Press Conference Photos And Quotes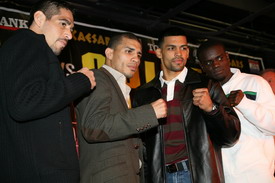 29.11.06 - Photos: TOM CASINO/SHOWTIME - In 2006, SHOWTIME continues to live up to its billing as America's No. 1 Boxing Network by televising the most compelling championship fights on the first Saturday of every month. The memorable 20th anniversary year of SHOWTIME CHAMPIONSHIP BOXING will conclude in sensational style on Saturday, Dec. 2, with an outstanding world championship doubleheader featuring two of boxing's most dynamic performers, Miguel Cotto and Antonio Margarito, live at Boardwalk Hall in Atlantic City (9 p.m. ET/PT, delayed on the west coast).

In the first of the two co-featured main events on SHOWTIME, Margarito (33-4, 1 NC, 24 KOs), the exciting, hard-hitting, World Boxing Organization (WBO) 147-pound champion will defend his crown against WBO No. 5 contender Joshua Clottey (30-1, 1 NC, 20 KOs).

The second championship bout of the night will pit undefeated Cotto (27-0, 22 KOs) against fellow undefeated Puerto Rican, southpaw Carlos Quintana (23-0, 18 KOs), for the vacant World Boxing Association (WBA) welterweight title. Bob Arum's Top Rank, Inc., in association with Northeast Promotions and Caesars Atlantic City, will promote the twin bill..

MIGUEL COTTO (27-0, 22 KOs) "I've dreamed about getting to this level and I have been working toward this goal ever since that moment. If you dream about something and you work hard at it, you can achieve your goal.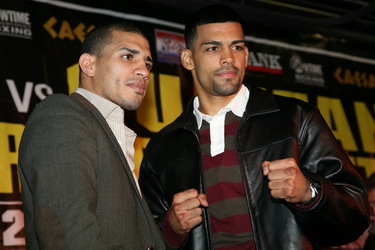 "We have worked really hard to get this type of fight.

"I know what I am doing. I know what I am capable of doing and come Dec. 2, Puerto Rico will have a new champion – Miguel Cotto.

"At this weight, I feel that I have more strength and I am going to be more inclined to take the fight to the opponent. I started camp for this fight at 177 (pounds). I used to start (for junior welterweight bouts) at 167.

"I've never seen Quintana fight. My uncle saw his fight and says he's a strong fighter. I know I will need to box and I have that ability. I am not just a power hitter."

CARLOS QUINTANA (23-0, 18 KOs) "I'm not the type of fighter to talk, but I'm telling you I am here and ready to fight.

"I know a lot of people don't really know me, but after Dec. 2 everyone will know Carlos Quintana."

PROMOTER BOB ARUM (INTRODUCING ANTONIO MARGARITO): "Now coming to the stage is a fighter that does not need an introduction to all of the boxing writers here, but he may need to be introduced to the "so-called" biggest names in the sport."

ANTONIO MARGARITO (33-4, 1 NC, 24 KOs )
"I am glad Clottey thinks the way he does. He is expecting a war; I will give him a war so he should be ready.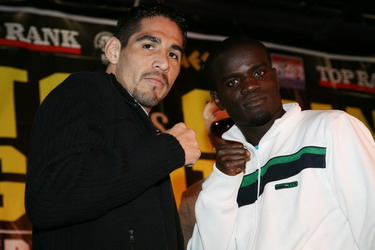 "I am prepared to go 12 rounds if I have to.

"This is a very interesting card, two titles both in my division. This is important to me because I would like to fight the winner of the other bout to unify my title."

JOSHUA CLOTTEY (30-1, 1 NC, 20 KOs ) "I am not going into this fight to lose. I am going to do everything to win."

"I want Margarito to stand and fight so we can show everyone who is the best." Article posted on 30.11.2006
previous article: Euro Boxing Roundup: Stieglitz, Ullrich, Markussen, More