Timo Hoffman Wins - German Oak Standing Tall Again
05.11.06 - Timo Hoffmann has put his career back on track after claiming an impressive points verdict over Cengiz Koc. The German Oak controlled the spectacular heavyweight encounter from the first bell on as he kept the pace high throughout and constantly pelted Koc with barrages of punches. Much to the delight of the boisterous crowd, all three judges ruled the contest in his favour (96-93, 98-91, 97-94). "I am relieved," Hoffmann enthused afterwards..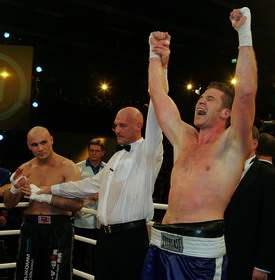 "I proved all my doubters wrong. I love the sport of boxing and showed everyone that there is still a lot of fighting left in me."

A string of disappointing results had left both Sauerland fighters in desperate need of a win. Their determination told early doors. Both looked focussed, with Hoffmann getting the better off his opponent early and often. His furious assaults left Koc impressed, and it was not before the seventh round that he did some serious damage himself. A crushing right to the head wobbled Hoffmann before a spirited exchange developed. Hoffmann soon regained control and cruised to a spectacular victory which was reminiscent of his strong performances against Vitali Klitschko and Luan Krasniqi. "A big newspaper titled 'retirement or world title fight' before the bout," Hoffmann vowed. "Now that I´ve won I am ready for the title fight."

A late coaching change made the triumph even a bit more special. Just four weeks ago, he had left German legend Manfred Wolke to join Uwe Schuster, who now clinched a spectacular victory over his former mentor (and Koc coach) Ulli Wegner. "I learned so much from Ulli," a grateful Schuster stated. And he added: "Timo was in great shape when he joined me (from Wolke). I did not make his life easy but he responded extremely well. It was a great performance tonight."

While the promising performance has put Hoffmann back in line for a title fight, Koc was left second-guessing his career options afterwards. He called it quits at ringside but soon pedalled back: "I will speak to my coach, look at the options and then make a decision," he said.

In the other main fight, the lights went out for both Michael Sprott and René Dettweiler - but only before their clash and due to a major power failure in Western Europe. After an half-hour delay, Sprott moved on to score a split decision victory over the up-and-coming youngster to defend his EU-heavyweight belt. "Experience was key tonight," the ring veteran revealed. "He has never been through 12 rounds before." Dettweiler, in his first-ever title fight, started out well but "lacked power towards the end". He said: "I think I did quite well but I ran out of gas at the end. I am just lacking experience." Sprott used strong combinations to body and head to stamp his authority on the bout. Nevertheless, coach Wolke was pleased with Dettweiler´s performance. "He gained so much from this fight. It will help him a lot in the future and make him a much better fighter. I am really satisfied." The scores were 116-112, 114-112 and 111-115 in favour of Sprott.

Article posted on 05.11.2006
previous article: Briggs knocks out Lyakhovich in a tactically thrilling Twelve rounder!
next article: Mayweather Waves "Tata" To Baldomir: Now Is It Oscar or Margarito?