Briggs knocks out Lyakhovich in a tactically thrilling Twelve rounder!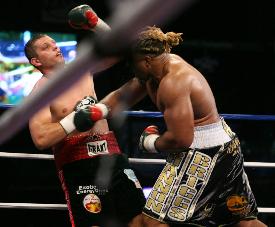 Photo by Tom Casino / Showtime: Briggs floors Liakhovich for the first time with 26 seconds remaining in the final round of the WBO heavyweight championship Saturday on SHOWTIME.

04.11.06 - By Izyaslav "Slava" Koza: Before going into an in depth analysis of Shannon Briggs terrific come from behind knock out win over Sergei Lyakhovich, let me say that I 100% disagree with Jim Gray and Showtime regarding the crapiness of this fight. IF as boxing fans, or journalists, these folks expect bombs out fireworks every time out, then more then likely, especially with heavyweights they will be wrong. Obviously your Gatti's and Wards, and Mormeck's and Bells, sell better to the Rocky crazed everyman fan, but personally, I can enjoy a great tactical match-up almost as much and sometimes even more. I have yawned my way through high punch output, shoe shine wars before, and was on the edge of my seat for Hopkins Taylor two, and one of the few wanting to see 3, so to me this was a terrific and sensational bout from a tactical standpoint.

For instance, why do fans go crazy for Soccer? I mean, the scoring output there rarely exceeds more then the few punches in each round of this fight, and yet it's a very profitable and immortal sport almost, and the reason is that tension and pressure. When Vasily Jirov recently explained to us the atmosphere in his sparring sessions, anybody with a photographic memory could understand exactly what he is talking about. It is that anticipation, that contrast to see something happen, and especially to see how it unfolds.

Therefore, it is unnecessary for the Showtime people to complain about how crappy this fight was, or say that in this instance Don King is somehow trying to spin his way out of a low action affair jam. Yes, Don King is a businessman and has his interests to protect but in this case he is absolutely correct in saying this was a great fight, and, in fac,t a rematch with a good undercard on pay per view will honestly draw in many boxing purist fans, and even the every folks who will be tempted by that sensational 12th round knockout.

As far as the fight goes, really what I can say, as a disappointed Lyakhovich fan, but that Sergei did half the work in getting Briggs the victory. Shannon's greatest strength to this point is his ring smarts, which compensates for his almost rich man's Butterbean style. Don't get me wrong, I am not trying to rag on Briggs because he beat the guy I was cheering for but he spent the majority of every round standing in the middle of the ring not doing anything waiting for his opponent to make a mistake. I think that during the bout Briggs only committed to cutting off the ring against Lyakhovich once.

Still, he compensated for this by giving himself the best chance to win the fight, by not doing what most of us thought was his only chance in going all out early. Even then had Lyakhovich been just a little craftier in his approach, had he not looked to "prove" something, he would simply win what Jim Gray would call a boring decision. He was on his way to doing just that, by scoring with a few pitter pat jabs and body shots, and then getting out of harms way where due to Briggs immobility he would win rounds on that workrate alone. However, starting in or about the eighth round, Lyakhovich started to linger on the inside, looking to score with something, but instead giving Briggs the chance to use his advantage in arm punching handspeed.

Although I was unimpressed by Briggs workout tapes, it was obvious that he did have good handspeed, and due to his mass, power, when he landed those shots. When Lyakhovich lingered there to be hit by those punches he gave away rounds he would have won had he just tied up, or ran to the outside. As it was, by the time the twelfth round rolled around, I saw the fight as going 6-5, either way because of a swing third round (which I personally thought Lyakhovich won but that could have been given to Briggs), and the amount of late rounds Sergei just put on a silver platter for Briggs to eat.

Even so, going into the twelfth the official scorecards were in his favor, and, in fact, even if they were not, a points loss is easier to justify a rematch with then a TKO. All Lyakhovich had to do, is what Apollo Creed had to do and that is stay the hell away. Instead, Lyakhovich, tried to be Lyakhovich, and go out and take, what was already his and thereby end up losing it. I know its easier to write about this then to actually do it which is why I hope those of you who are reading this take it with a grain of observing salt, but it's hard for those of us who were cheering on the tactical show.

Lyakhovich had going for him even in his corner because as usual Kenny Weldon was doing a superb job, but instinctively, I guess, he just isn't a fighter if deep down he doesn't argue with his trainer's correct advice. All Lyakhovich had to do was stay upright for roughly a minute and thirty seconds because he had dominated the first half of the last round. This is where a fan can truly appreciate that so called "round stealing Sugar Ray Leonard" style because those three punches Sergei landed early were enough to force Briggs to do what he didn't want to do and that is come to Lyakhovich to get the KO or the 10-9 for the round. At this point, although I love Kenny Weldon as a trainer, I would have loved it even more if he would yell at the top of his freakin lungs (and he might have I just didn't hear it), "You won the Damn ROUND, stay AWAY!!!!" Usually, yelling at a fighter can knock their concentration but Weldon is just so good at what he does, that he knows, Lyakhovich to be the type of guy that will not listen if the audible level ain't kicked up a few notches.

Even after the first KD, Lyakhovich still had a shot to win by draw, if he would do what he did against Brewster in the seventh by taking a knee. Brewster in the 12th was a spent fighter, with a bad eye, and no size advantages, while Briggs was the complete opposite having saved just enough to have a puncher's chance for all 36 minutes. Obviously, though, when a guy is that hurt, and the type of instinctive fighter that Lyakhovich is, that is all academic, but the important thing is, that I think, with time as Sergei matures, he will be able to think both as the fighter he is and as a third person observer like his trainer. Lyakhovich right now has a terrible tendency to back up to the ropes when tired and hurt, rather then rushing in to clinch ala Klitschko. Were that Wladimir in there, I would fully expect the cobra clutch of death, made famous by Sgt Slaughter to wrap itself around Briggs. Klitschko would probably need to be pried apart with a crowbar, BUT he would survive and win. Fans would call it stupid and cowardly but the announcer would still call him the champion of whatever freaking belt he holds at the moment. As it is, Lyakhovich in his typical manner backed up to the ropes after the KD, put his tired hands up, while Briggs to put bluntly gently nudged him in the body as hard as he could, and Sergei needed no more to fold over and fall through the ropes.

Interestingly enough, I think that had the tables around the ring been more reinforced or put half under the ring, Lyakhovich's legs would not slide under them and he might have beat the count of twenty. That was all academic, of course, because Kenny Weldon rushed the ring anyway and the ref waved it of as well.

There was one bit of controversy I was extremely angry about, and that I feel should be investigated very stringently. If it was an honest Showtime error, then this is fine, but if you look at the clock winding down as Lyakhovich was going down the first time, it simply stays on 26 seconds without counting down. Am I saying that Lyakhovich would make it to the bell? That would be quite a stretch, but even so, I only noticed this as he got up. I have no idea how long it had stayed on the 26 second mark. Perhaps it was just an inexperienced time keeper, or possibly sensing Lyakhovich was hurt, somebody didn't wish to let the clock count down any further?

Do not get me wrong, Shannon Briggs won all the way, and Lyakhovich half beat himself, but even if the right guy wins, much like in other fights I have written about these things matter. Maskaev should have been warned or penalized for holding by Nady even if he did win, but only in half the bout, while Klitschko should have only been penalized by Neumann, if Peter would have been penalized for the rabbit punches and the KD's in the fifth would not count. It is important to not only have experienced people working the fight but ones who are competent and won't make mistakes of this nature. As a fighter had Lyakhovich been kept inside the ring, and fighting after the bell should have sounded he could have been seriously injured and the mistake would lie with something as simple as the round clock.

Congratulations to Shannon Briggs and Sergei Lyakhovich for a clean, professional and tactically thrilling and entertaining bout. Briggs deserves his win and all the credit, while Sergei deserves a warrior's respect, but also a huge ear job from his trainer and some definite work in the gym regarding, clinching, taking a knee and not lingering inside against a guy more heavy handed than he was.

Article posted on 05.11.2006
previous article: Sergei Liakhovich: Talk about a nightmare!
next article: Timo Hoffman Wins - German Oak Standing Tall Again