Boxing Briefs: Barrera holds on to world title, Kid Diamond Dominates Ramirez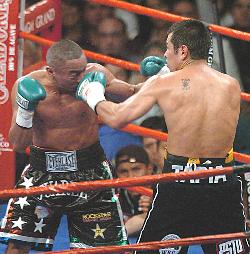 18.09.06 - By Vanessa McConnall, Photos by CJ Cansler: It was said to be "Too Close To Call" but for 2000 Olympic Silver Medallist Rocky Juarez (25-3, 18 KOs) it was a long call home. In the WBC Super Featherweight World Title main event last weekend at the MGM Grand Arena, Marco Antonio Barrera (63-4, 42 KOs) held on to his title by beating Juarez as the fight went to the judge's scorecard.
Barrera won by unanimous decision.

In the ten round WBC Super Bantamweight fight between Israel Vasquez and Jhonny Gonzalez, Vasquez held on to his title by knocking Gonzalez out in the tenth round.

In the Junior Lightweight world title fight between Joan Guzman and Jorge Barrios, Barrios failed to make his 130 lb weight required for the fight. Guzman took the title from Barrios fair and square, in the ring after beating Barrios by split decision.

Had Barrios won, the belt would have been taken away from him anyway because he didn't make the weight. Jorge Paez Jr beat Derrick Campos last weekend by majority decision when the fight went to the judge's scorecard..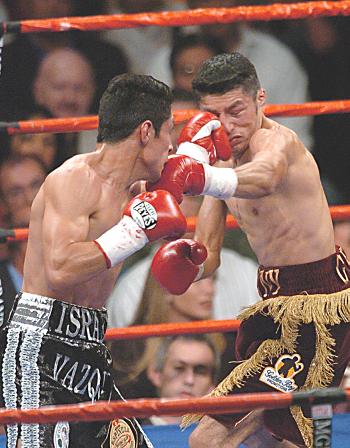 Although it was a dirty fight with both fighters swinging below the belt, Euri Gonzales (12-0, 8 KOs) beat Juan Pablo Montes De Oca (8-10-2) by split decision. Craig McEwan (1-0) made his stunning boxing debut by defeating George Montalyo (0-2). Also making a debut last weekend, Anthony Martinez beat Leon Green (1-1) in 1:14 of the second round. It only took Henry Crawford (12-0-2) twelve seconds to take Adam Wynant (12-5-1) out with a clean right and Miguel Reza (3-1) beat Sergio Mendez (4-3) by a majority decision when the fight went to the judge's scorecard.




Golden Boy Promotions, MGM Grand, HBO and Main Events put on an impressive fight card for "Mexican Independence Day." All year we have been seeing the best fights this century right here in Vegas. For more information on other impressive fight cards coming up visit www.hbo.com, www.myspace.com/vmclasvegas or www.myspace.com/greatshots.


Top Rank Boxing Sept. 14 Orleans Arena Las Vegas

Last week Top Rank Boxing premiered a fight card at the Orleans Arena in Las Vegas on Sept. 14 featuring some of the best NABF fighters in the world. In the twelve round bout against Almazbek "Kid Diamond" (23-1-1, 14 KO's) from Las Vegas, Nevada beat Jairo Ramirez (20-3, 7 KOs" from Oaxaca, Mexico in the NABF Interim Lightweight Championship by TKO. In the Middleweight division, Felugencio Zuniga (18-2-1, 16 KOs) from Padilla, Columbia won back his pride with a unanimous decision over Jose Luis Zertuche (19-3-2, 14 KOs) from Guanajuato, Mexico in the twelve round fight card. Zuniga finally breaks away from the humiliating loss when he was beaten severely by Pavlik last November that left his face looking like ground beef.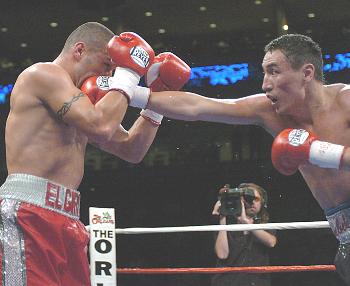 In the Super Welterweight bout, Ahmed Kaddour from Houston, Texas fought Jesus Valverde from Mazatalan, Mexico for eight rounds. In the Middleweight bout between Andy Lee (5-0, 3 KOs) from Limerick, Ireland and Gabriel Rivera (7-4, 4 KOs) from Harlington, Texas Lee beat Jess in the first round by TKO. Alejandro Perez (6-0-1, 3 KOs) from Salinas, California beat Robert (Bobby) Da Luz (7-5, 6 KOs) from Miami, Florida by TKO in the fourth round in the Super Bantamweight division. John Molina (4-0, 3 KOs) beat Julio Chavez in the four round Lightweight bouts by unanimous decision. Salah Zabian also won a four round decision over Andy Carlton. Visit www.myspace.com/greatshots or www.myspace.com/vmclasvegas for more information.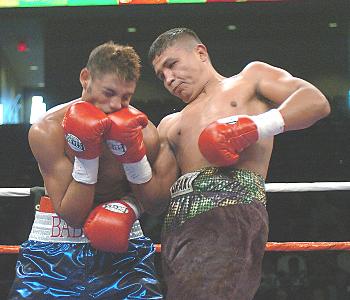 Great Shots from Ward vs Holt in San Jose, California

Earlier this month Christopher Holt and Andre Ward fought before over 3,000 boxing fans in Goossem Tutor's "Night of the Olympians" at the HP Pavilion in San Jose, California. Ward won the bout, no doubt but the well anticipated fight between former world bantamweight and featherweight champion Luisito Espinosa and former WBA lighweight champion Lakva Kim was cancelled because Espinosa refused to take an MRI ordered by California State Athletic Commission after recently being clobbered in the ring. Holt and Ward stepped into the ring and made up for the loss. Article posted on 18.09.2006
previous article: Euro Boxing Roundup: Ruiz vs Chagaev, More
next article: Arthur Abraham vs. Edison Miranda: The Battle Of The Unbeatens