02.09.2006 - By Wray Edwards @ the scales - Photos © Wray Edwards/ESB -- Toney-Peter & undercard weigh-in photo gallery -- Today's weigh-ins were very spirited but well organized. Aiken defends his title against Guerrero in Saturday's SHOWTIME CHAMPIONSHIP BOXING co-feature at STAPLES Center on SHOWTIME (10 p.m. ET/PT, delayed on the west coast). In the main event, James Toney faces Samuel Peter in a heavyweight crossroads 12-round fight. We had some very interesting interview comments. Let's get to that later. First here are the weights and face-offs: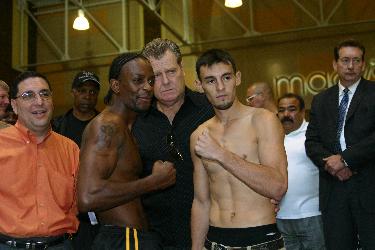 Eric Aiken (16-4, 12 KOs) IBF Featherweight Champion. 125 lbs.
Robert Guerrero (26-1, 22 KOs) NABF Fthrwt Champion.124.5 lbs.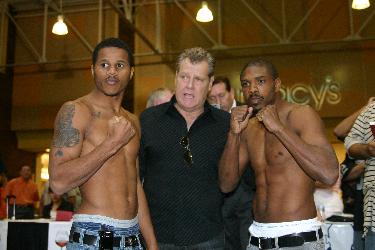 Anthony Dirrel (9-9, 9 KOs) Super Middleweight. 166 lbs.
Billy Thompson (7-5, 3 KOs)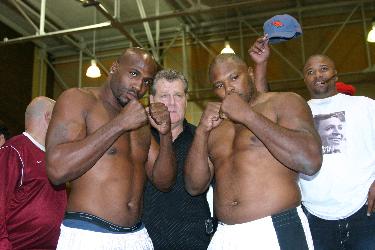 Travis Walker (20-0-1, 16 KOs) Heavyweight. 241.5 lbs.
John Clark (12-7-1, 7 KOs). 274 lbs.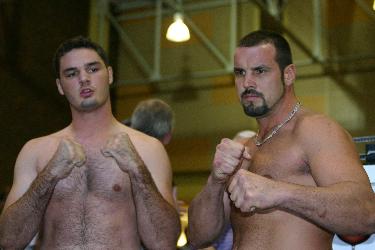 Michael Marrone (14-0, 8 KOs) Heavyweight. 214 lbs.
Ralph West (16-8-1, 13 KOs)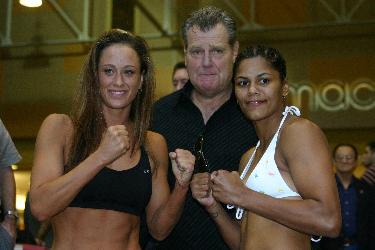 Jessica Rakoczy (23-2, 8 KOs) Women's Lightweight. 132 lbs.

Belinda Laracuente (22-13-3, 9 KOs). 131.5 lbs



At the Toney-Peter weigh-in yesterday we ran into Ralph "Wild-Wild" West. He and his crew were proclaiming "upset" over Marrone and even strongly suggesting the third round as the target frame. Today during the face-off between the two came the only intimidation talk of the event as Marrone was quietly threatening West. Ralph did not seem impressed.

Everyone else was pretty neutral and sportsman-like. Everybody on photog row agreed that the line-up looked really good. Let's hope so. After driving around a place where you can go a hundred and twenty miles and still be downtown, there's got to be a pay-off for surviving all that traffic. See you at the fights. Article posted on 02.09.2006