James Toney-Samuel Peter: La La Land Face-Off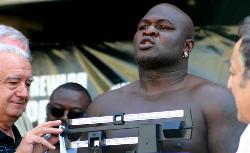 01.09.06 - By Wray Edwards - Photos © Wray Edwards/ESB -- Toney-Peter photo gallery -- The weird thing about returning to the place where you grew up, is that much is the same, but not really. That can't be said of James Toney. He's pretty much the same wherever he goes. Not so long ago Mr. T was out in the parking lot (after a fight), stripped down to his protector and twirling his boxing shorts over his head as he traded quips with a female fan.

Today at the Staples Center Star Plaza weigh-in for his bout with Sam Peter, James brought, first and foremost, his attitude. One aspect of the sport of Boxing is entertainment, and "Lights Out" has never forgotten that. Combined with Sam Peter's own brand of bravado, it was inevitable that the weigh-in, which is pretty much ceremonial and promotional in the unlimited division, would turn into a near street riot. Hype aside, these two gave most of the available Anglo-Saxon epithets a real workout. One of Toney's last quips, as the swirling entourage of homies, crew and media crossed Figueroa Street, was to the effect that "He's (Sam) just a fake-a** African in that Dashiki."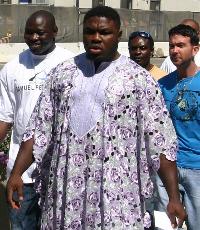 Peter took the scales first and weighed in at a whopping 257#s which, IMO, he carries fairly well. Then "Lights Out" tipped the balance at 233#s. The stage was a pretty messy affair as the two were reluctantly posed for a face-off. Tony looked up into Sam's face with a defiant and stony burn. Sam pretty much turned his back on the media and concentrated on mean-facing Toney.

After that, they both launched into tirades of insults, threats, and invitations to rumble right then and there. Both camps had cadres of "restrainers" and soothers who promised their respective fighters that they would get their chances at mayhem come Saturday night.

Steve Farhood held forth after the rabble rousing event and allowed as to how he thought that James was just too experienced in general, and really good at rolling his shoulders, to give Peter much of a target. ESB asked if that would defend well against Peter's left hook. Steve opined that it might be the left…perhaps, but he was expecting Sam's looping rights to be of equal if not greater threats.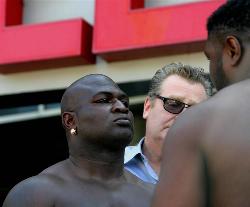 Dan Goosen projected a successful night for James and there is no doubt that Goosen Tutor considers James to be the total package. When asked about Toney's colorful language over the past few weeks they responded, "That's our James."

Sam Peter has demonstrated his power on Jeremy Williams, Hawkins and Wlad, knocking them all down. James Toney will not be so easy to recline if he can Roll and clinch when Peter moves in. To a notable degree, Sam Peter and Sultan Ibragimov have raw talent and power evident in their straight-ahead, heavy-handed brand of fighting. The big problem for both comes when they fall in and get caught as Peter did V Wlad and Sultan did V Austin. Neither Sam or Sultan have demonstrated that they have been trained much in the more technical aspects of the game.

Peter is young enough (25) to seek and adopt a more intelligent and technical style. There's nothing wrong with combining power and aggressiveness with judicious use of tactics, strategy and classical, proven footwork, range-finding and target selection. James is going to have to find an answer to counteract Sam's stout mass. If there is, by fight time, still a twenty-five pound weight difference it might be significant, as both fighters are about the same relative per cent blubber; edge to Sam on muscle mass.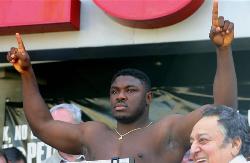 Toney will probably try to rely on tricky moves to evade Sam's power, and look for opportunities to counter for points. The both have good chins which bodes well for a longer fight. Who is more likely to get a KO should it happen? Sam Peter. Who is more likely to win on points should the judges be tasked to decide? James Toney.

Meanwhile, we should see a lot-o-beef tenderizing action. I think the edge goes slightly to Peter in this one…but would still love to see Toney/Klitschko some day. See you at the fights.

Article posted on 01.09.2006
previous article: Day 4: Valuev In Chicago