Peter vs Toney: Samuel Peter, Robert Guerrero Showtime Quotes
29.08.06 - Photos by Joe Miranda - Samuel "The Nigerian Nightmare" Peter (26-1, 22 KOs) and Robert "The Ghost'' Guerrero (18-1-1, 11 KOs) participated in an open media workout Monday at the Los Angeles Boxing Academy as they continued to prepare for their big fights Saturday at STAPLES Center on SHOWTIME. Peter faces James "Lights Out'' Toney (69-4-3, 1 ND, 43 KOs), in a 12-round WBC heavyweight elimination bout while Guerrero challenges IBF featherweight champion Eric "Mighty Mouse" Aiken (16-4, 12 KOs). Tickets, priced at $300, $150, $75 and $50, are available at all TicketMaster locations and at STAPLES Center's Box Office..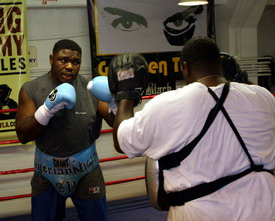 SAMUEL PETER

"This is the biggest, most important fight of my life. I will destroy Toney.

"I have no fear and am ready for anything he has to offer and that includes his tricks, style and maneuvers. He is going to see things from me that the world has never seen before. I have never been primed for a fight like I am for this one. I have had excellent sparring with top-notch guys.

"Toney knows he made a silly mistake by agreeing to fight me. I am going to hit him everywhere.
"Toney has nothing. Whatever power he had went away 20 years ago.

"I promise you I will win by knockout''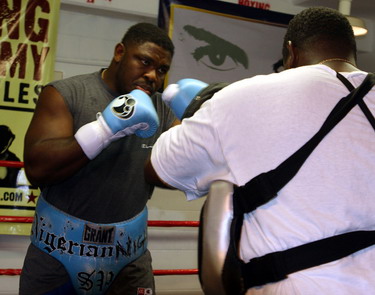 ROBERT GUERRERO

"I feel like I normally would a few days before any fight, but this is not just "any" fight. This is the biggest fight ever for me.

"I have worked very hard. I know Eric Aiken is a great, tough fighter who is really coming into his own. But I am in great shape.

"I am so ready to fight. I wish the fight was now. Waiting is the hardest part, especially the last couple days when time goes so slow.''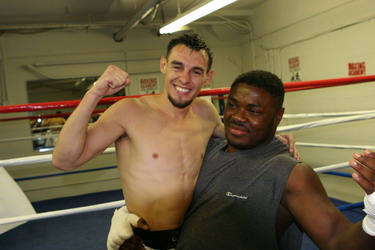 Robert Guerrero gets a lift from Samuel Peter during their open media workout Monday at Los Angeles Boxing Academy. Guerrero jumps rope and Peter hits the mitts in the other pictures Article posted on 29.08.2006
previous article: Toney vs. Peter: Look For Samuel To Put Toney Out Of His Misery!