Corrales vs Casamayor III: Itīs About Time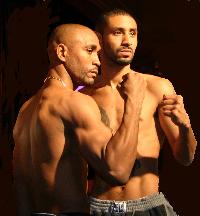 19.08.06 - By Wray Edwards - Photos Đ Wray Edwards: Coming up on three years ago Joel Casamayor managed to filet the inside of Diego Corrales' boca to the point that ring officials would not let Chico contimue. Corrales complained bitterly but had to eat the TKO along with a lot of his own blood. Eager to avenge this loss, Corrales signed to rematch just five months later and was barely able to scrounge a split D victory which brought him the WBO and IBA Superfeather titles.

Interestingly, as background to this second contest between the two, Joe Goosen, who had been Joel's trainer for their first bout, wound up in Diego's corner for the second contest. Many people felt that it was bad form for Joe to go directly from Joel to Diego prior to their second meeting. No decent interval, and all of that. In Joe's defense, there are some very interesting details which tend to soften suspicions.

About the time Joel was ready to train for his next bout, he was in residence at a mountain-top training facility near the Hearst Castle on the California coast. Joe was invited to live in a beautiful Spanish villa while training Casamayor. It was not to be. Unfortunately, for El Cepillo, Joe Goosen was in Hollywood training the movie star Adam Sandler, and he felt that the training camp was too far away from his commitments in Hollywood..

Moreover, Goosen had been approached by Shane Mosley who wanted Joe's good offices. Again, Goosen would have been required to travel. In this case the camp was in the mountains up in Big Bear southeast of L.A. Enter Diego Corrales, who was willing to travel to Goosen's bailiwick to assimilate his avuncular wisdom. And that's how Joel Casamayor's estranged trainer ended up in the opposite corner for his second bout with Chico.

I sat at the Ledyard as Joel and his corner cut it too close and lost the SD. Now, for the rubber match, it seems that Chico has faced the better competition in Freitas and Castillo. For those who put stock in such considerations there are significant downsides when it comes to Freitas and Castillo. For one, Diego was exampled by Freitas regarding mouthpiece spitting. Chico certainly observed that Freitas was given some significant leeway to gain rest time by loosing the mouthpiece more than once. He was, finally penalized, but not after demonstrating that one could gain a bit of valuable rest time with the ploy.

IMO Corrales might have gone to school in that bout and kept that option for future reference should extreme circumstances require the judicious use of the tactic to survive. Many feel that it was this reflex or design which enabled Chico to best Castillo in their first meeting. Well, things went downhill from there. Even though the fight was fought as if the two were duct-taped together and many thought the match to be historic, the tooth-guard still lurks with a threatening asterisk.

Downside number two might be the career-shortening abuse Chico appeared to have absorbed. Fights like that take a lot out of a guy. As if that wasn't bad enough, Diego, his people and the media hoopla jammed the two into another match way too soon IMO. Such was the allure of the increased bucks in the larger venue, that Diego, in a fit of unrealistic macho, agreed to fight Castillo even though Jose weighed in well over the required 135. He probably never considered the possibility that Jose had (IMO) not the least intention of making weight, nor interest in winning the lightweight title, but was only there to exact vicious revenge. The debate goes on about what it takes out of one to make weight and how that might affect a boxer's potential.

So, in Round four, a Castillo left put Chico to nappy-time from which he awoke with the question "What happened?" It is cliché that a boxer is set back a bit by a KO and needs two or three bouts to fully recover career momentum. As if that were not enough dreadful abuse by Jose, Diego's handlers and the media, an unbelievable mistake was made which led to absolute catastrophe. The jaw-dropping decision was made to ink a third fight between the two which was billed as a "trilogy" and/or "rubber match" which was completely bogus, as the Castillo weight fiasco prior to their second contest rendered such null and void.

A true trilogy or rubber match can only occur if the two boxers meet all necessary sanction and commission requirements leading up to each of the three fights. "Fool me once.your fault, fool me twice.shame on me". To the utter dismay of fight fans, media, indeed, every human consciousness on the planet which has the least cognizance of the sport, the WBC and Castillo's camp allowed a complete train-wreck to occur as Jose Castillo again failed to make weight and the fans, the media and the camps lost millions in time and money.

Somehow, Diego found enough common sense to back away from the flaming ruins of the portended bout and did not fight. This final insult almost completely overshadowed what fond memories might linger from Corrales-Castillo One. The first culpability award for this mess goes directly to the WBC which might have a slide for the weight mess prior to the second fight, but forewarned by that fiasco, there is absolutely no excuse what-so-ever for the traveshamockery the WBC allowed leading up to number three.

After the first weight incident, the WBC should have sent a representative to the Castillo camp to observe and report on every last detail of Castillo's progress, and with the professional hindsight of an organization with such urgent responsibilities, completely controlled the situation. They totally blew it. Jose's camp was obviously not up to the task either. Net result: This time, rather than being brutally KO'd, Chico was left stumbling forward with all the momentum of a boxer just out of camp and no one to fight. Almost nothing throws one off more than gathering steam, steeling the heart and leaning to the task, only to have the counterpoise missing and the rug pulled out.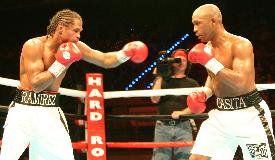 Meanwhile Casamayor fought Almazbek Raiymkulov to a draw, Antonio Ramirez to a Round five KO and Lamont Pearson to a Ninth Round TKO. These contests were good, solid rust-preventers and the Ramirez fight at the Piquot Hard Rock with ESB ringside showed Joel to be still in excellent form.

Castillo will have not had any serious ring-time since his first bout with Castillo seventeen months ago. The rest was a total waste except for three training camps. The match should be a vintage Casamayor/Corrales event.a true trilogy.a true rubber match. It will be a pleasure to see Chico, free of the Castillo debacles, once again bending his might against the classical, rolling rhythm of El Cepillo. A long time coming, but should be worth the weight...uh, wait. See you at the fights.

Article posted on 20.08.2006
previous article: Night Of Prospects In Denmark September 8!