Jean Paul Mendy and Henry Buchanan Triumpth As ShoBox Tourney Opens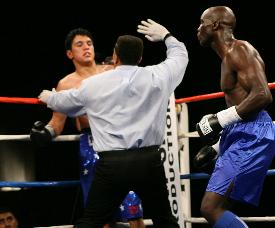 LAS VEGAS (July 29, 2006) – Photos by Tom Casino / Showtime - It is on to the semifinals for Jean Paul Mendy and Henry "Sugar Poo'' Buchanan, who were victorious in opening-round bouts in the "ShoBox'' Super Middleweight Tournament Friday on "ShoBox: The New Generation" on SHOWTIME. Mendy (22-0, 12 KOs), of Paris, France, registered a first-round TKO over Dallas "Deaf Pride'' Vargas (21-3, 15 KOs) of Toledo, Ohio. In a battle of unbeatens, Buchanan (14-0, 11 KOs), of Capital Heights, Maryland, injured his right hand in the first round but still did enough to box and slug his way to a unanimous 10-round decision over Lucas Green-Arias (11-1, 8 KOs) of Costa Rica.

A tournament that offers two boxers in the original international field of eight the rare opportunity to appear on national television three times in only seven months resumes next Friday, Aug. 4, when Anthony Hanshaw (19-0, 13 KOs) of Warren, Ohio, takes on Esteban Camou (18-1, 15 KOs) of Navojoa, Mexico, and Sakio Bika (20-1-2, 14 KOs) of Douala, Cameroon, faces Jose Luis Herrera (14-1, 14 KOs) of San Onofre, Colombia. Like Friday's show, the fights will be televised on SHOWTIME at 11 p.m. ET/PT (delayed on the west coast) from the PFTC at The Sports Center of Las Vegas..

Tourney semifinal bouts will take place Friday, Oct. 6 on SHOWTIME. Friday's first-round winners Mendy and Buchanan are scheduled to box in one of the 10-round matches while the Aug. 4 winners will collide in the other. The tournament final on Jan. 5, 2007, will be for the International Boxing Organization (IBO) 168-pound title. Gary Shaw Productions, LLC, is promoting the event.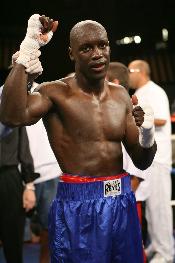 Making his third United States start, Mendy stunned Vargas with a combination, then continued to land seemingly every punch he threw until the referee stepped in to halt matters 1:45 after it started.

"There was no way that I expected to win that early, but I knew I hurt him and was not surprised the ref stopped it," said the southpaw after his fifth victory inside the distance in his last six outings. "I was just in there analyzing things when I nailed him with a good body shot.''

A visibly disappointed Vargas had a four-fight winning streak end. "I entered this tournament thinking I would win it, so to lose like this is more than disappointing," he said. "The ref stopped it way too soon. I wasn't hurt. I never went down. It was like the amateurs the way they stopped it. I am mad.''

The flashy Buchanan was too quick and fast-handed for Green-Arias. Much of the damage inflicted came from his injured right hand.

"If I hadn't hurt it, I think I would have finished him," said Buchanan, who won by the scores of 98-92, 97-93 and 96-94. "But I had to keep using it. I knew nothing about the guy other than he was from Costa Rica. But this is one down, two to go. If I get past my next fight, I'm in the finals.''

Green-Arias tried to be the aggressor and gave it his best, but he didn't have the experience to deal with Buchanan's speed and overall ability.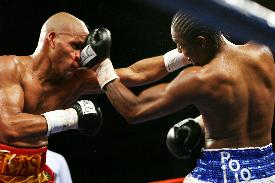 Tickets for the Aug. 4 bouts are on sale at The Pureformance Training Center (PFTC) box office, or by calling 702.450.PFTC. Tickets also can be purchased online at puresupplements.com.

Nick Charles called Friday's action from ringside, with Steve Farhood serving as expert analyst. The executive producer of the telecast was Gordon Hall, with Richard Gaughan producing.

In addition to the rebroadcast on Saturday, July 29, at midnight, Friday's bouts also will be replayed on SHOWTIME EXTREME Monday at 8 p.m. and Wednesday at 11:30 p.m. and back on SHOWTIME TOO Thursday at 11 p.m.

The critically-acclaimed series, "ShoBox: The New Generation," debuted on SHOWTIME in July 2001 as a proving ground for up-and-coming fighters determined to eventually fight for a world title. Friday's Super Middleweight Tournament opening-round bouts represented the 80th episode of "ShoBox." A number of fighters who have appeared on the series have gone on to become world champions, including Ricky Hatton, Juan Diaz, Leonard Dorin, Joan Guzman, Scott Harrison and Jeff Lacy.

For information on "ShoBox: The New Generation" and SHOWTIME CHAMPIONSHIP BOXING telecasts, including complete fighter bios, records, related stories and more, please go the SHOWTIME website at http://www.sho.com/boxing.

Article posted on 29.07.2006
previous article: Most Feared Fighter In Boxing? Not Quite. GBP Offers Up Three Opponents For Margarito