ShoBox Presser Pic, Weights And Quotes
28.07.06 - Photo: TOM CASINO / SHOWTIME - In a pair of 10-round bouts, Jean Paul Mendy will face Dallas Vargas and Henry Buchanan will meet Lucas Green-Arias in opening-round matches in the ShoBox Super Middleweight Tournament Friday, July 28, on SHOWTIME (11 p.m. ET/PT, delayed on the west coast) from PFTC at The Sports Center of Las Vegas. Buchanan-Green Arias will open the telecast, followed by Mendy-Vargas.Boxers (left to right) Dallas Vargas, Jean Paul Mendy, Lucas Green-Arias and Henry Buchanan pose at Thursday's weigh-in at Las Vegas. Vargas weighed 168 pounds, Mendy tipped scales at 166, Aries weighed 168 and Buchanan 167..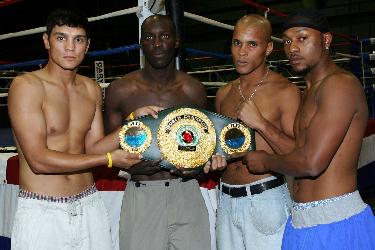 JEAN PAUL MENDY (21-0, 11 KOs)

"I have had difficulty getting fights so the timing of this tournament is perfect. I have sparred 100 rounds and am ready to go. Every boxer who entered the tournament feels they have a chance to win, but I am very confident. I have never watched a tape of any fighter. That's my trainer's job.''

DALLAS VARGAS (21-2, 15 KOs)

"I plan on winning this tournament. I am very excited. Mendy is a southpaw but I don't see any problem there. I plan to try and take it to him. Mendy throws a lot of punches but he doesn't have a lot of power. I'm a warrior. I come to fight. I have fought good guys in my career and I think that gives me an edge. I get hit a lot but that is only because I allow myself to get hit when I know my opponent cannot hurt me. I let them land so I can set up my punches.''

HENRY BUCHANAN (13-0, 11 KOs)

"On paper, there are better fighters in this tournament then me, but in the ring, it will be a different story. Guys in this tourney have better records, but they haven't fought anybody. I don't think they can beat me. This tournament is a great idea. It gives me a way to make some money and a name for myself. I can adapt to any situation in the ring and I plan to do whatever it takes to do to win the tournament.''

LUCAS GREEN-ARIAS (11-0, 8 KOs)

"I have always wanted to fight in the United States so when we got an offer to be in this tournament we jumped at it. The plan is for me to stay on the onside and box but if I see an opening to do some damage, I will take it. I don't know anything about Buchanan. But this will be a good fight. I am very prepared.'' Article posted on 28.07.2006
previous article: Who Are The Real Champs?