James Toney Blows His Cool
12.07.06 - Photos: Joe Miranda / For SHOWTIME: James Toney took exception with comments made by Sam Peter's camp during Tuesday's press conference in Los Angeles to formally announce the Toney-Peter 12-round WBC heavyweight elimination bout Saturday, Sept. 2, at STAPLES on SHOWTIME (10 p.m. ET/PT, delayed on the west coast). Before order was restored, an irate Toney had threatened to take off his jacket and go after Team Peter (promoter Dino Duva and manager Ivaylo Gotzev). Toney wound up throwing a glass of water at Gotzev..

Caption Notes: That's Toney promoter Dan Goossen in the red tie .... Duva is seated next to Goossen .... Peter, next to Duva, remained silent and seated for the most part.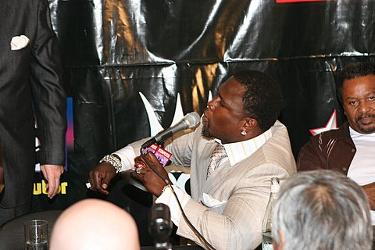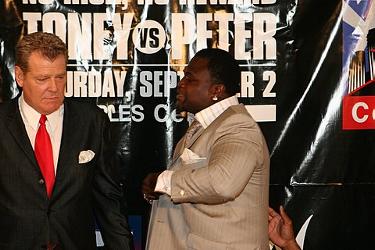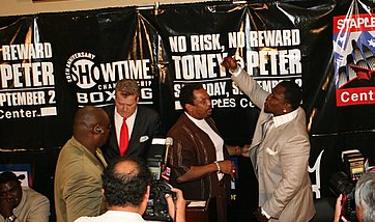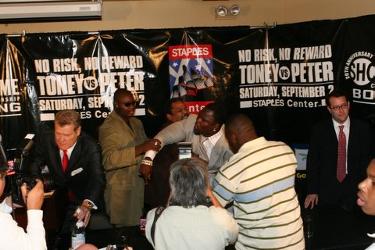 Article posted on 12.07.2006
previous article: Bowe - Golota I: The Ten Year Anniversary
If you detect any issues with the legality of this site, problems are always unintentional and will be corrected with notification.
The views and opinions of all writers expressed on Boxing247.com do not necessarily state or reflect those of the Management.
Copyright © 2001- 2015 Boxing247.com - Privacy Policy l Contact