Robert Guerrero Knocks Out Gamaliel Diaz, Andre Dirrell Stops Don Hall, Anthony Dirrell Destroys Morrow on ShoBox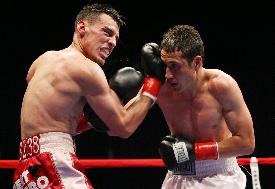 24.06.06 - Photos by: Tom Casino / SHOWTIME: Robert "The Ghost" Guerrero (left) lands a right to the head of Gamaliel Diaz (right) Friday on "ShoBox." On a night that featured nine knockdowns, three knockouts and 10 rounds of thrilling action, Guerrero (18-1-1, 11 KOs), the World Boxing Council (WBC) No. 7 featherweight contender, avenged his only loss with an impressive sixth-round knockout over WBC No. 3 contender Diaz (20-6-2, nine KOs) at the Oakland/Alameda County Arena in Oakland, Calif. By winning the first rematch in the five-year history of "ShoBox," Guerrero becomes the mandatory challenger to WBC No. 1 contender Nicky Cook.

In the co-features from the Oakland/Alameda County Arena in Oakland, Calif., the unbeaten Dirrell brothers kept their undefeated records intact by each recording three knockdowns. Older brother, Andre, scored a third-round TKO over Marcus Don Hall, while his younger sibling, Anthony, registered a first-round TKO over James Morrow..

SHOWTIME televised the Goossen Tutor Promotions doubleheader at 11 p.m. ET/PT. The telecast represented the 78th in the popular "ShoBox" series, which debuted on SHOWTIME in July 2001.

Guerrero (18-1-1, 11 KOs), of Gilroy, Calif., dropped Diaz for the first time in his nine-year career by landing a punishing left hook to the body early in the first round. Moments later, "The Ghost" spooked his opponent and sent him to the canvas for a second time with another left hook to the body. Following four close rounds, Guerrero ended matters in the sixth by sending Diaz to the canvas for the third and final time with a left uppercut to the ribs. With Diaz on his knees, referee Raul Caiz Jr. counted the Mexico City native out at 2:33 of round six. Also, after earning a 10-7 round in the first, two of the judges had Guerrero ahead by the scores 47-46 at the time of the knockout, while the third had it, 48-45.

"I wanted to prove that my loss to Diaz was a fluke, and I did," Guerrero said. "I put a hole in his body and broke him in half. This time, I went out and attacked."

Even though he avenged his lone setback, Guerrero did not give himself a passing grade.

"I give myself a 'D,'" Guerrero said. "I did enough to get him out of there."

"ShoBox" analyst Steve Farhood, on the other hand, was impressed.

"Guerrero's performance largely erases the defeat he suffered to Diaz," Farhood said. "He showed that he has the character and determination to take his game to the next level. Guerrero's power and left hand proved to be the difference."

In the initial collision of top-10 featherweights on Dec. 5, 2005, Diaz stunned the boxing world by winning a 12-round split decision over then-WBC No. 2 contender, Guerrero, on "ShoBox." Diaz, who was the WBC No. 7 contender going into the fight, proved he was not afraid of apparitions by outpointing Guerrero 115-112, 114-113 and 112-115.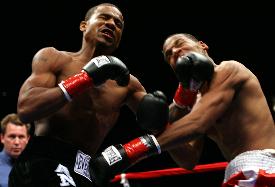 Diaz (20-6-2, nine KOs), of Mexico City, saw his 11-fight winning streak and 19-bout unbeaten run (17-0-2) come to an end. After getting floored twice in the first round, Diaz rallied to make the fight close before Guerrero finished him off in the sixth. Diaz' last loss came in July 2000.

Andre "The Matrix" Dirrell (8-0, five KOs), of Flint, Mich., sent Hall to his knees one minute into the third round with a devastating combination. Seconds later, the 2004 Olympic bronze medialist floored his counterpart again, this time with a left uppercut. Following the third knockdown, referee John Schorle stopped the contest at 1:57 of the third.

"Everything I wanted to throw worked," Dirrell said. "I was just really on my game tonight. My jab was better than I thought it would be. I am a bounty hunter and go for whatever is open."

Hall (11-2, 1 NC, four KOs), of Savannah, Georgia, lost for the first time since he dropped his pro debut in September 2002. In addition, "The Barber" had won nine straight since his third bout ended in a no contest on Aug. 28, 2004. In his two previous 2006 starts, Hall had won six-round decisions.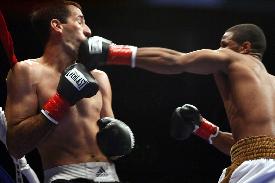 Anthony "The Dog" Dirrell (9-0, nine KOs), of Flint, Mich., scored his sixth opening-round knockout in nine bouts by thoroughly outclassing Morrow. Dirrell opened the "Night of Knockdowns" by sending his foe to the turf with a right hook moments into the first round. He sent Morrow down again seconds later with a left to the kidney. After a third knockdown, referee Dan Stell decided to end the carnage and halted matters at 1:37.

"I just went in there and did my thing," said Dirrell, who did his usual back flip in the ring after scoring his fourth consecutive knockout. "I have been working on going to the body and the head, and it paid off tonight."

Dirrell has majored in finishing off opponents quickly and decisively since turning pro on the same show as his brother. None of his nine starts have last more than two rounds, and he has fought a total of 12 pro rounds (1.3 rounds per contest).

Morrow (9-3-2, 1 NC, four KOs), of Lafayette, Ind., saw his modest one-bout winning streak come to a crashing halt. He won five straight at the outset of a career that began on Nov. 29, 2003, and was 8-0-1 after nine outings.

"ShoBox: The New Generation," which debuted on SHOWTIME in July 2001, features up-and-coming prospects determined to make a mark and eventually fight for a chance at a world title. A number of fighters who have appeared on the series have gone on to become world champions, including Jeff Lacy, Ricky Hatton, Juan Diaz, Leonard Dorin, Joan Guzman and Scott Harrison.

Nick Charles called Friday's action from ringside, with Steve Farhood serving as expert analyst. The executive producer of the telecast was Gordon Hall, with Richard Gaughan producing.

For information on "ShoBox: The New Generation" and SHOWTIME CHAMPIONSHIP BOXING telecasts, including complete fighter bios, records, related stories and more, please go the SHOWTIME website at http://www.sho.com/boxing.

Article posted on 24.06.2006
previous article: Clifford Etienne "The Black Rhino" Sentenced to 150 Years in Prison