Jermain Taylor-Winky Wright: Oops! They Left It To The Judges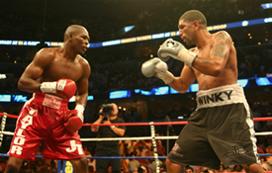 20.06.06 - By Wray Edwards: - Photos © Wray Edwards -- Photo Gallery -- Boring it wasn't. Ronald and Jermain went at it full bore until the end of the eleventh round. Then, as the other photogs were murmuring "He's (Winky) coasting", it did appear they were right. Why in such an energetic and important contest would the challenger suddenly ease up? Could it be that Winky thought he had it in the bag? That was my fear. Whenever any fighter looks to be so sure in such a close fight, one feels apprehensive for the guy.

The adage that the challenger has to "take it away" in convincing fashion, seems to be even more important in "home town" situations. The good thing about a draw - and there aren't many - is that stats take on a more important meaning when one considers the subjectivity of the judges. Personally, I think Wright won the fight...and here's why..

Let's start by looking at the CompuBox numbers:

TOTAL PUNCHES THROWN: Taylor: 703 Wright: 643
CONNECTS: Taylor: 163 Wright: 226
PERCENT: Taylor: 23 Wright: 35

TOTAL JABS THROWN: Taylor: 308 Wright: 335
CONNECTS: Taylor: 41 Wright: 103
PERCENT: Taylor: 13 Wright: 31

POWER PUNCHES THROWN: Taylor: 395 Wright: 308
CONNECTS: Taylor: 122 Wright: 123
PERCENT: Taylor: 31 Wright: 40

While percentages have some weight regarding the accuracy and economy of a fighter's effectiveness, it is really scoring contact which is the best measure of victory. That is absolutely true in Olympic Boxing and is (or should be) only slightly less important in the professional sport. The subjective element in professional boxing is much stronger than in the computer based Olympic system. Finally, one might - and with some good reason - consider the apparent physical damage done to one or the other fighter.

Some careful thought and consultation went into writing a disagreement with the official ruling. Draws by their very nature, invite speculation, suspicion and second guessing. As a friend often says, "If the numbers are there, you have to take the deal."

By all of these measures, with the possible exception of the subjective, Winky Wright won the fight. It wasn't even close if you look at the numbers and the physical damage done to Taylor. According to CompuBox Wright connected with sixty-three more punches including sixty-two more jabs and but one more power shot.

By these numbers Ronald's accuracy was superior, and his defense more effective. Then there was Taylor's left eye which was blasted shut by Winky's omnipresent right.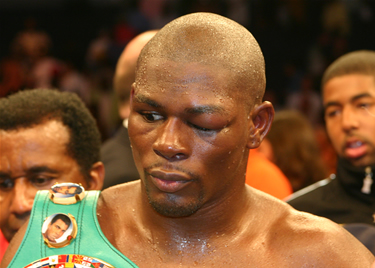 Perhaps it was shots like this which caused the damage: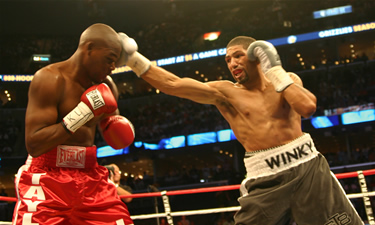 Sure, Wright's eyebrow areas and cheeks were red, but he looked a whole lot better than Jermain.

The judges were from all over the country. So hometown bias is not probable. Originally, there was a local judge slated, but Gary Shaw had that one disqualified. Mr. Shaw and his partners expressed the opinions that Winky had won the fight. The author tends to agree...with one caveat: Ronald's twelfth round coasting.

As the twelfth round began it seemed natural to expect a final, all out effort from both fighters. That was not to be. They each seemed to be circling at a greater distance than in previous rounds. As the other photogs noticed Winky seemed to be coasting a bit, I wondered could he possibly think he had it in the bag? Surely not.

Maybe so though. As the final bell sounded Winky raised his hands as if victorious and climbed the corner ropes to strike his chest to the crowd. Taylor just stepped away and walked slowly to his corner. He did not look positive at all.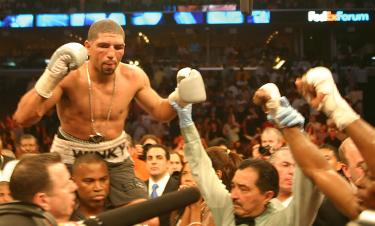 As it turned out, the twelfth round was crucial. Though most had it for Wright, I was told two judges had given it to Taylor. If that was the case, then, in hindsight, Winky should have gone all out, which he did not. That, of course still lies in the subjective area of the outcome. As stated above, a more empirical examination of the contest reveals Wright to have clearly out-pointed Taylor.

The fight was tremendously exciting and a really courageous tactical slugfest. Both boxers left it all in the ring for the first eleven rounds. We were all amazed and pleased to be there to see such an exciting spectacle.

Rumor had it at the press conference that Ronald had said he would not be that interested in a rematch. Much of what happens in the future regarding that probably rests on Winky's new management and promotional arrangements.

East Side Boxing would like to thank Nate Yoder and the entire staff of the FedEx Forum for their fine management of this event, and the completely astounding variety of delicious foods at the media buffet. Also an "attaboy" to WBC official/judge/referee Gary Ritter for his colorful and friendly relations with the over-crowded photog group at apron section B. See you at the fights. Article posted on 20.06.2006
previous article: Nigel Benn and Steve Collins try to help raise the profile of amateur boxing