Winky Wright-Jermain Taylor: Memphis Weigh-In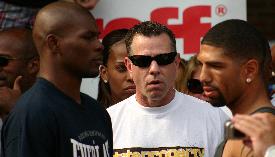 16.06.06 - By Wray Edwards: Photos © by Wray Edwards - In a setting reminiscent of the sweltering heat of the Tampa Bay Aquarium Pavilion, where the weigh-in for Jones-Tarver Three was held, WBO/WBC Middleweight Champion of the World Jermain "Bad Intentions" Taylor came face to face with challenger Ronald "Winky" Wright at the Pepsi Pavilion in Handy Park, Memphis, Tennessee.

Wright (50 - 3, 25 KO's, tipped the scales at a rough-and-ready 159.5.

Jermain Taylor braved the sauna-bath weather to bring it in right on the mark at 160 lbs. as he raised his long right arm in a number one salute to himself..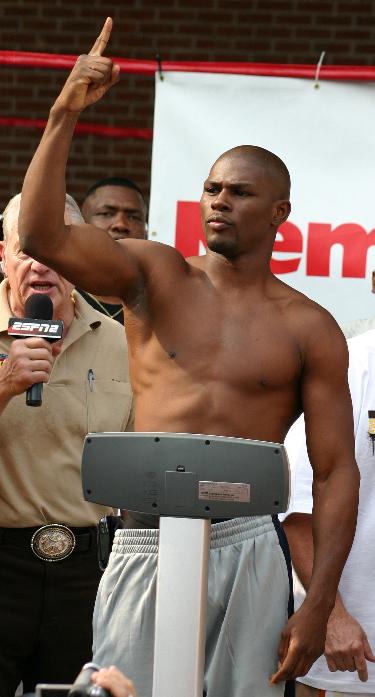 The undefeated Taylor (25 - 0, 17 KO's) showed the brash confidence which has been his trademark since he wrested the Middleweight title from Bernard Hopkins (07/16/05) and then made it stick in a re-match (12/03/05). His boyish face and high expectations were cheered on by his homies in the crowd who had followed him here from Little Rock, Tennessee. It's almost a home-town venue for twenty-seven year-old Jermain.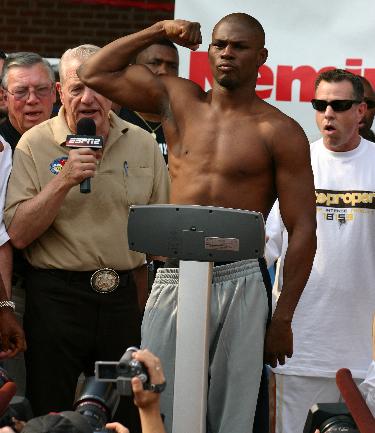 Winky Wright has traveled up from St. Petersburg, Florida to invade Jermain's neighborhood. He has also moved up from Light Middleweight having won his last two bouts versus Felix Trinidad and Sam Soliman in the 160 division. The Wright-Trinidad fight was kinda boring as Winky just stood off and chopped Tito to pieces with his points-gathering jabs; sort of a homage to the pop-fest Felix Sturm unleashed on De La Hoya.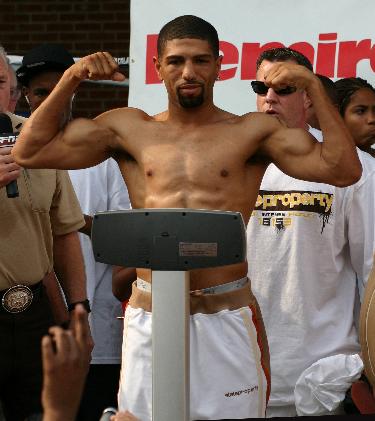 The Soliman contest was a different story, and proved to be a real middleweight test for Ronald.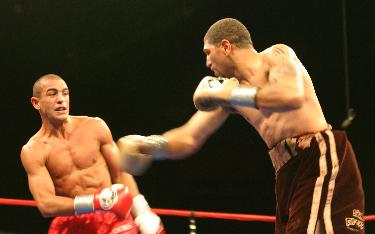 Though Ronald Wright, 34, doubles Taylor's ring experience, Bad Intentions hopes to counter that with the classical skills and tricks of the trade he has learned from Mannie Steward over the last six weeks. Taylor, taller than Winky by two and one-half inches, will bring more action than did Tito and more size than did Soliman.

Ronald Wright was constantly flashing what is arguably the best smile in boxing.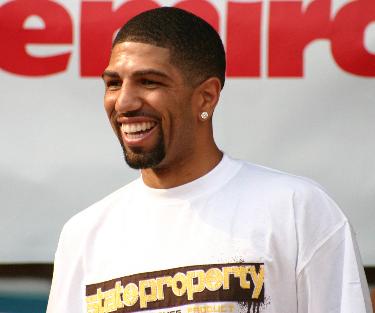 The fight will be presented on HBO's "World Championship Boxing" Saturday night, June 17th at around 9:30PM eastern and 8:30PM central time from the FedEx Forum.

We have heard every possible take on the contest. "It's going to be boring", "Jermain is going to waste his natural a**", "Winky's professional experience will derail Taylor's youthful power and aggression." I have it as a good show if Taylor brings it as bravely as Soliman did. ESB will be ringside to capture the essence of the contest. See you at the fights.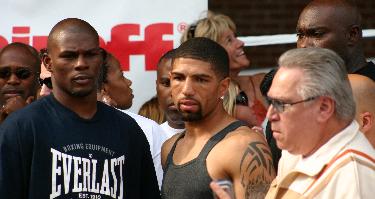 Article posted on 17.06.2006
previous article: Middleweight prospect Yuri Foreman weighs in on Jermain Taylor vs. Winky Wright!